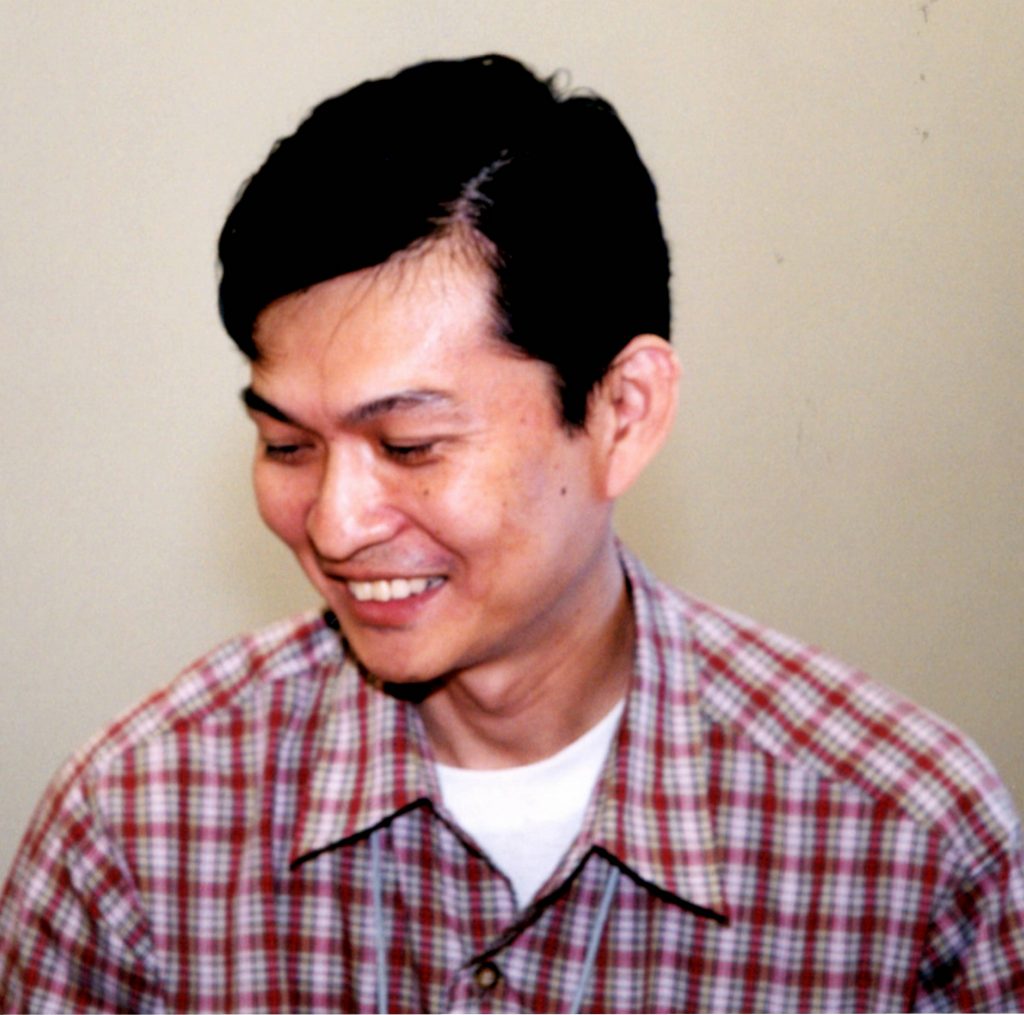 Born in Singapore, 1963. Worked for the Singapore Art Museum from 1985 to 1992. Became interested in the art history of Singapore during his career, and conducted investigation and research on works and artists pursuing social themes. He is knowledgeable about woodcut prints which were popular from the 1930s to the 1950s, the activities of Artists Village (established by Tang Da Wu), for which he was director for some time, and the modern art of Singapore and its region. Recognized as a researcher as well as an artist.
[Residence Program] Sep 10, 1999〜Apr 23, 2000
Exchange Activities
Being involved in several past projects of the Fukuoka Asian Art Museum, Koh Nguang How knew some of the staff people and fit himself into the atmosphere of the Museum in no time. Soon after arrival, he played important roles in various fields such as writing articles for leaflets and contributing photograph materials for "Tang Da Wu and His Works" the commemorative exhibition for the Fukuoka Asian Cultural Prize recipient Tang Da Wu. With the enormous amount of material he brought with him, he gave impassioned speeches at the "Teacher Koh's Singapore Art Lecture" four times. The nature of his performance was gradually refined at each session, providing an overview on not only the modern art of Singapore but also the history of Singapore. He also demonstrated his artistic aspect in his research theme, prints, by holding woodblock print technical classes to encourage interest and enhance the understanding of volunteer staff and citizens. Particularly, putting most of his effort into the planning and coordination of the Asian Art Festival, he was busy day in and day out contacting and making arrangements with participating artists from throughout the world. The success of the Asian Art Festival owes much to his contribution. In addition to his own work, he played an active role just like one of the staff, taking care of other guests, providing interpretation help and exchanging with the volunteer staff.
Activity Schedule
September 10
Arrived in Fukuoka. Cooperated in preparation of "Tang Da Wu and His Works" (hosted by the Fukuoka Asian Cultural Prize Committee Secretariat).
September 18
Made presentation at AJIBI Hall to the volunteer staff on his activity plans. Volunteer staff assigned.
October 21
Visited production and repair site for family altars at Hasegawa.
October 25
Held a workshop for woodblock prints for volunteer staff at the Research Room for Invited Guests.
November 4 and 11
Held a workshop for woodblock prints at the Open Studio.
November 28; December 4, 5 and 12
Held "Teacher Koh's Singapore Art Lecture" at AJIBI Hall
December 21
Returned to Singapore for planning and coordinating for the "1st Anniversary Event for the Fukuoka Asian Art Museum: Asian Art Festival."
January 13
Came back to Fukuoka.
February 27
Held volunteer staff orientation for the "Asian Art Festival" at AJIBI Hall.
March 4 to 6 "Asian Art Festival" held at the Atrium Garden, 5th floor of Hakata Riverain . Presented the achievements of the Researcher in Residence Program to an audience of 90 people as "Art Exchange and Networking in 21st Century."
March 9
The invitation (residence) period completed. Extended his stay, and continued investigation and research.
March 17 to 19
Conducted the investigation of prints at several places such as the Modern Art Museum, Kanagawa Prefecture and Machida Municipal International Printing Art Museum.
March 23 to April 2
Went to Korea to research the Kwangju Biennale.
April 23
Left Japan
Resident artists from the same year