Born in Singapore, 1943. Traveled to England in 1970 to study sculpture at Birmingham Arts and Crafts School, St. Martins Art School. Received his Master's degree from Goldsmith College, London University, in 1985. Returned to Singapore in 1988 and established the artists' community called "Artists Village" in a northern village, dedicating himself to holding exhibitions and performances with younger artists. Ever since then, he has been a front-runner in contemporary art, not only in Singapore but also in Southeast Asia. He has continuously raised environmental and social issues through installations using daily necessities, and participatory performances, while seeking his self-identity as a Chinese Singaporean.
[Residence Program] Sep 18, 1999〜Apr 1, 2000
Exchange Activities
Tang Da Wu has done a range of performances and workshops involving the audience, acting together and inspiring them to think. At the Artist in Residence Program too, he opened the studio door to the public and conducted the project "My Life" with open participation, allowing visitors to figure themselves out through the alternating discussion-style workshops. In the process of the workshop, participants used snapshots or photographs taken by pinhole cameras of their own making to express themselves and eventually describe their own personal histories and their current situations, on a pair of sheets measuring one by three meters. Da Wu himself produced a work under the same concept as the participants. To deepen his friendship with the local people, Da Wu offered two performances at an art space in Fukuoka with the support of friends whom he met here in Fukuoka and volunteer staff from the FAAM. The two sessions of performance that he has presented at the FAAM expressed strongly his own questions, anxiety and loneliness while querying the audience about friendship and human relations.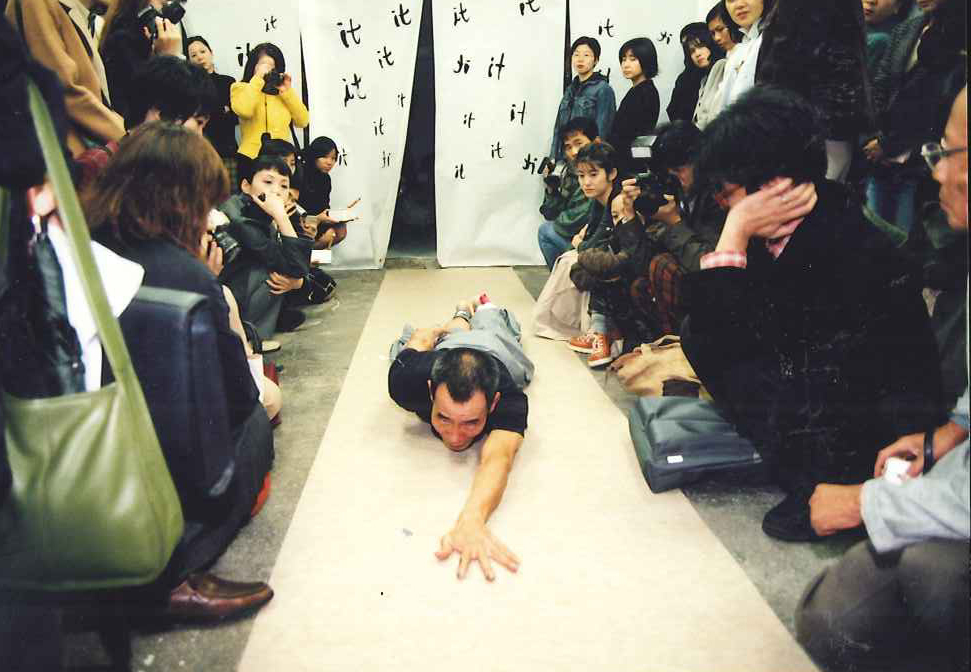 Activity Schedule
September 18
Arrived in Fukuoka to attend the award ceremony for "the 10th Fukuoka Asian Cultural Prizes 1999." After participating in the award ceremonies, he joined the residence program of the Fukuoka Asian Art Museum on September 28. He explained his activity plan for his stay to the volunteer staff at AJIBI Hall. Designated volunteer staff assigned.
September 23
A workshop organized by the Fukuoka Asian Cultural Prize Committee, the "Heart of Banana and Heart of Human," held at the Open Studio.
September 25
In commemoration of receipt of the Arts and Culture Prize of Fukuoka Asian Cultural Prize, a performance entitled "Heart of Banana and Heart of Human" was presented at the Atrium Garden, 5th floor of Hakata Riverain, with a talk on the theme "Fast Moving Asian Contemporary Art: Tang Da Wu and His Works" at the Sculpture Lounge.
September 28
Artist in Residence Program started.
October 13
Held a talk session for ten students of the Kyushu Flower Design
School at the Artists' Gallery.
October 17
Participated in the "Itakoi Festival" in Tagawa City, conducting the workshop "Jantung Pisan: Heart of a Tree, Heart of a People."
October 21
Upon invitation from a noted Buddhist altar manufacturer, Hasegawa, he toured a number of places including the family altar manufacturer, and fitting repair workshops at shrines and temples.
October 27
Gave a lecture for employees of Hasegawa.
October 30
Workshop No. 1 of the project entitled "My Life" was held at the Open Studio, with the participation of 40 people.
November 6
Workshop No. 2 of the project entitled "My Life" was held at the Open Studio, with the participation of 35 people.
November 12
A performance entitled "I think about it" was held at the Enjoy Space Daimyo, with the participation of 100 people.
November 13
Workshop No. 3 of the project entitled "My Life" was held at the Open Studio, with the participation of 30 people.
November 20
Workshop No. 4 of the project entitled "My Life" was held at the Open Studio,
and later "... and the pants remain," at the Artists' Gallery with the participation of 120 people.
December 4
A performance entitled "Home" was held at the Artists' Gallery, with the participation of 150 people.
December 9
He gave a lecture at Ryukoku University in Kyoto.
December 11
Workshop No. 5 of the project entitled "My Life" was held at the Open Studio, with the participation of 20 people.
January 22
Workshop No. 6 of the project entitled "My Life" was held at the Open Studio, with the participation of 20 people.
February 5
Workshop No. 7 of the project entitled "My Life" was held at the Open Studio, with the participation of 20 people.
February 11
Artists' talk entitled "Kotatsu De Talk - Fukuoka Art Asia What is the 'Exchange'?" (Organized by the Kotatsu De Talk Executive Committee).
February 29
The performance "I came back for it" was held at the Enjoy Space Daimyo, with the participation of 100 people.
March 11
"The 1st Winds of Artist in Residence" was started at the Artists' Gallery. The Artists' talk was held in commemoration of the exhibition
at AJIBI Hall, with the participation of 92 people.
March 12
A performance entitled "Ghost" was held at AJIBI Hall, with the participation of 130 people.
March 27
The Artist in Residence Program was completed.
April 1
Left Japan
Resident artists from the same year