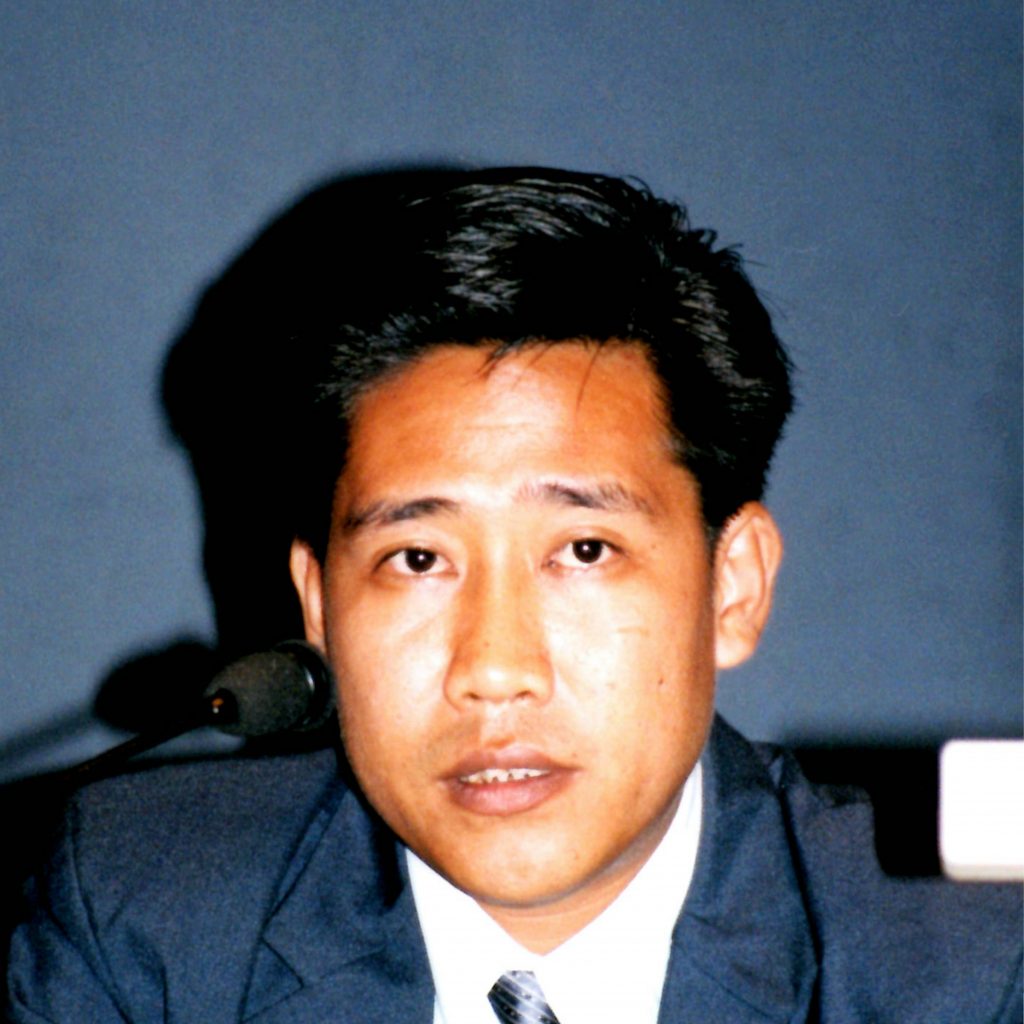 Born in Yangon, 1967. Graduated from University of Mandalay in 1994. Assistant Director of the Cultural Museum Mandalay, Department of Cultural Institute, Myanmar since 1997.
[Residence Program] Jun 4, 2002〜Sep 3, 2002
Exchange Activities
Ye Myat Aung organized an exhibition, "Beautiful Myanmar" to show the 39 paintings he brought from Myanmar. Through his involvement in the preparation for this exhibition, he studied the methodology of exhibition in Japan, also researched museum management and contemporary art. His active participation in workshops initiated by the fellow artists-in-residence also led to much interchange with the Fukuoka people.
Activity Schedule
June 4
Arrived in Fukuoka. Had a discussion about his residency on his arrival. A decision was made to organize an exhibition of works by Myanmar artists.
June 8
Meeting with the volunteer staff. He explained what he was going to do during his residency.
June 18
Accompanied Tashi Penjor and Rinchen Wangyel upon their visit to Chikushi Jogakuen University as lecturers. Strolled around Dazaifu afterwards.
June 22
Participated in Soeung Vannara's workshop by taking part in kiteflying along Momochihama beach.
June 26
Checked the condition of works to be exhibited in "Beautiful Myanmar."
July 1
Took photographs of the works to be exhibited in "Beautiful Myanmar."
July 7
Visited Oita to see "Cyclical Art Site: Contemporary Art Exhibition in Oita 2002".
July 15
Viewed Hakata Gion Yamakasa Oiyama Festival in the early morning.
July 20
Visited San-gousouko (Studio and Exhibition Space) and Fukuoka Prefectural Museum of Art.
July 21
Interviewed Kawanami Chizuru, the curator of the Fukuoka Prefectural Museum of Art about contemporary art in Fukuoka. July 27, August 3
Presented a lecture entitled "Ye's Lectures on Myanmar Art ". August 14
Viewed Kandinsky Exhibition at Fukuoka Art Museum.
August 20
Framed the works to be exhibited in "Beautiful Myanmar." August 30
Installed the works in the gallery.
August 31
"Beautiful Myanmar" exhibition opened. Presented a gallery talk (61 people participated).
September 1
Participated in "Taco Cup 2002" initiated by Soeung Vannara. September 2
Visited Hiroshima City Museum of Contemporary Art, Hiroshima Museum of Art, and Hiroshima Peace Memorial Museum. September 3
Left Fukuoka.
Resident artists from the same year