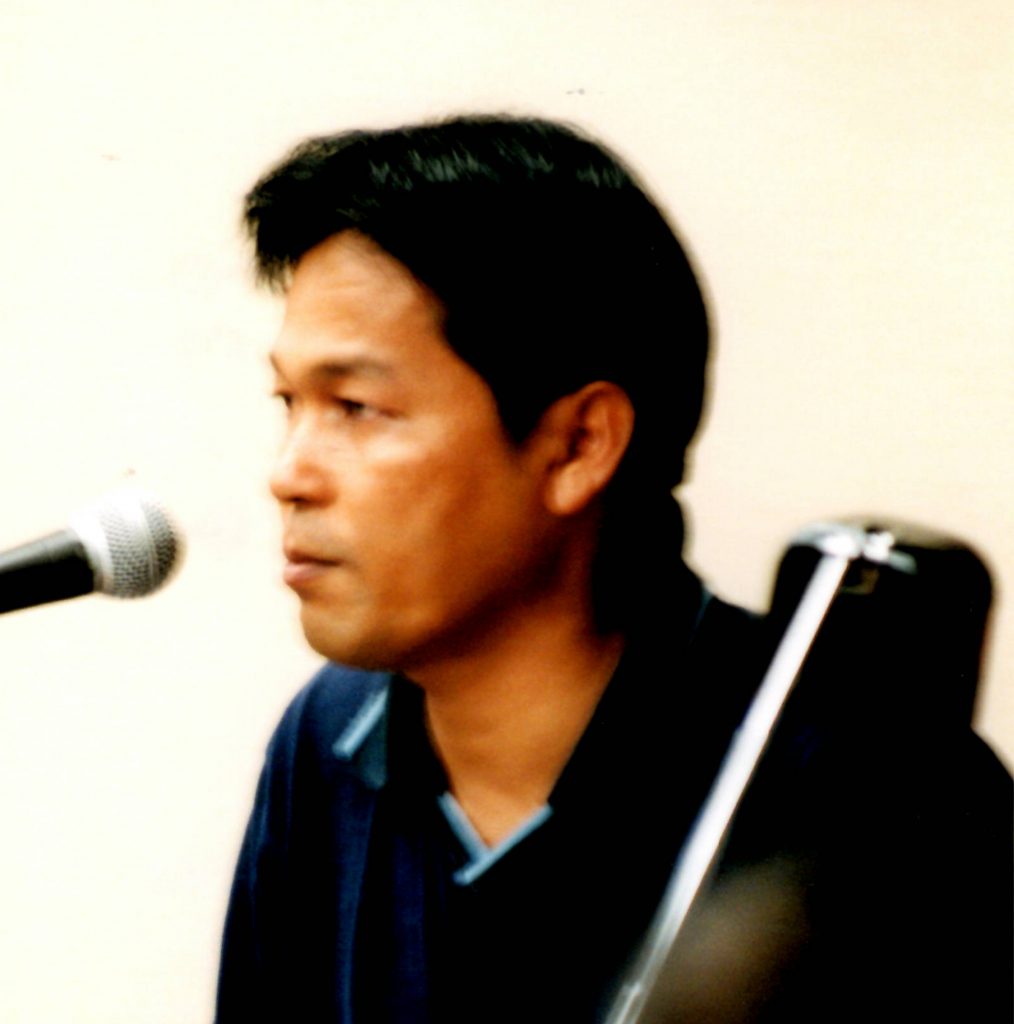 Born in Kandal, Cambodia, 1962. Received Masters Degree at Academy of Fine Arts, Warsaw, Poland in 1995. Currently teaching painting at the Faculty of Plastic Arts, the Royal University of Fine Arts, Phnom Penh.
[Residence Program] Jun 4, 2002〜Sep 3, 2002
Exchange Activities
Soeung Vannara made Cambodian kites during his three months stay. He participated in the Art Exchange Programs of the 2nd Fukuoka Triennale, making and flying kites in workshops with an art club members of a Junior High School in Fukuoka. He also made a large kite after the 2nd Fukuoka Triennale in collaboration with a local traditional Japanese painter, painting the right half by himself while the other half was painted by the Japanese painter. In addition to his creation, he held "Taco Cup 2002" in which the citizens made their own kites and competed in flying them, and he had various Art Exchange activities through his creation of Cambodian traditional musical kites.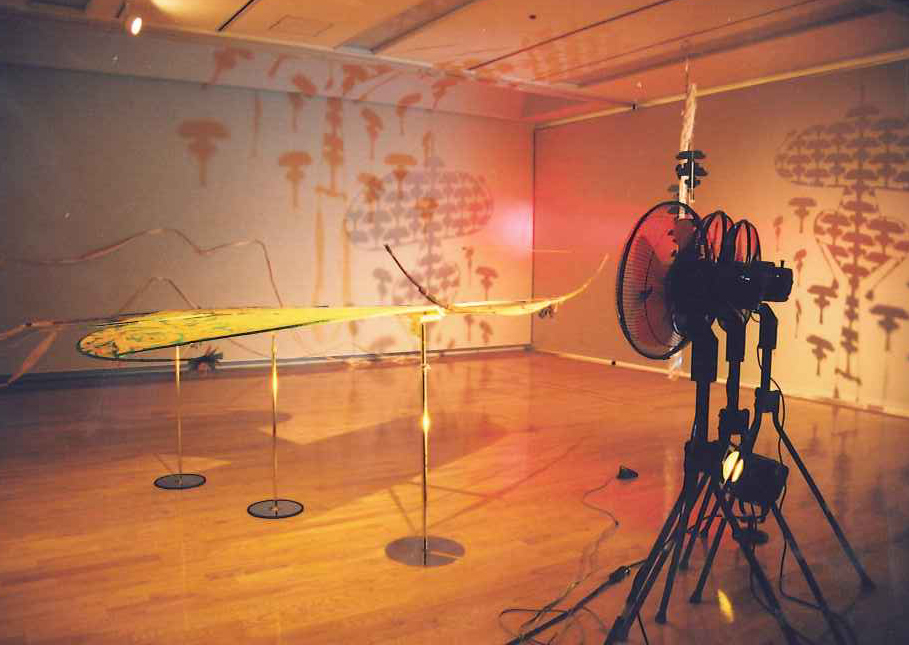 Activity Schedule
June 4
Arrived in Fukuoka. Had a discussion about his residency on his arrival. A decision was made to make Cambodian kites during his stay.
June 5
Visited art material shops and bamboo shops searching for the materials for his kite making. Bought bamboo, wooden boards, Japanese paper, strings for kiteflying, and acrylic paints.
June 6
As the Art Exchange Programs of the 2nd Fukuoka Triennale, he was to hold a workshop with the students of Maizuru Junior High School Art Club. So he started preparing for it.
June 8
Meeting with the volunteer staff. He explained what he was going to do during his residency.
June 10
Day for the workshop. The art club members came to the Open Studio of the FAAM with their teacher. They were divided into two groups to make two kites. (12 people participated)
June 12
Visited Maizuru Junior High School to make kites during the lunch break, however, some members couldn't come. So he did it after school. (10 people participated)
June 17
Searched for a place for kiteflying. He tried flying one in Reizen Park near the FAAM, but the park was surrounded by buildings in every direction, so the kite did not fly well because of strong wind. So he went to the beach at Momochihama by bus. There was no wind at that time, but he chose the place for flying kites. June 18
Accompanied Tashi Penjor and Rinchen Wangyel upon their visit to Chikushi Jogakuen University as lecturers. Strolled around Dazaifu afterwards.
June 22
Day for kiteflying. There was a very strong wind. The kites went high in the sky, but because of such strong wind, some accidents happened. One kite hung from a tree and he could not get it back, while another went down in the sea. (30 people participated)
July 7
Visited Oita to see "Cyclical Art Site: Contemporary Art Exhibition in Oita 2002".
July 15
Viewed Hakata Gion Yamakasa Oiyama Festival in the early morning. Visited Professor Mizutani Koji at Fukuoka University of Education. He introduced Vannara to a traditional Japanese painter who would paint on his kite.
July 19
Met with the traditional Japanese painter, Ms. Narayama Sumi. They decided that Soeung Vannara would paint Cambodian patterns on the right wing of the kite, while Ms.. Narayama would paint Japanese patterns on the left.
July 20
Visited San-gousouko (Studio and Exhibition Space) and Fukuoka Prefectural Museum of Art.
July 27
Held a meeting to explain "Taco Cup 2002". He explained how to make a musical kite, carving bamboo stick, painting on the cloth part, and making the musical part. The participants were to struggle in making the kite for one month from then on. (19 people participated)
August 14
Viewed Kandinsky Exhibition at Fukuoka Art Museum
August 30
Installed the works for his exhibition.
August 31
The exhibition opened. He gave an artist talk at the AJIBI Hall. (56 people participated)
September 1
"Taco Cup 2002". They flew kites at Momochihama beach. Some found it difficult to fly their kites as they wished, but the kites flew well played melody in the sky in large volume. Soeung Vannara judged how well the kites flew and gave awards. The winner was Ms. Kan Kaoru.. (29 people participated)
September 2
Visited Hiroshima City Museum of Contemporary Art, Hiroshima Museum of Art, and Hiroshima Peace Memorial Museum. September 3
Left Fukuoka.
Resident artists from the same year