Born in Bhutan, 1953. Master of Torma (butter sculpture) making in Paro Rinpung Dzong with 25 years of experience. He is involved in making butter sculptures for religious use in Paro Rinpung Dzong and other monasteries in Paro.
[Residence Program] Jun 4, 2002〜Jul 4, 2002
Exchange Activities
Tashi Penjor participated in the Art Exchange Programs of the 2nd Fukuoka Triennale making Tormas in Open Studio. He concentrated in the creation for three weeks and completed thirteen large and small Tormas. He saw lotus flowers for the first time which he had long made in his Tormas, showed how to make Tormas at a university, and experienced various things that would have been impossible in his country. He had many exchanges with people in Fukuoka through Torma making.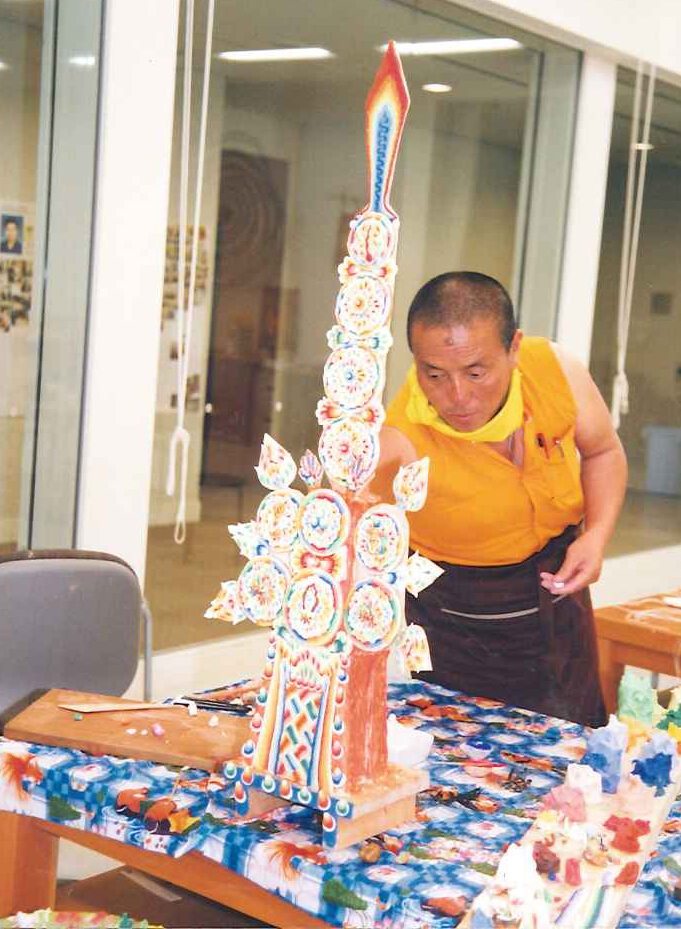 Activity Schedule
June 4
Arrived in Fukuoka.
June 5
Started preparing for Torma making in the Open Studio. Installed the Bhutanese altar in the collection of the FAAM, beside the video in the Exhibition Gallery during the 2nd Fukuoka Triennale.
June 6
Made a miniature Torma as a sample and offered it on the altar. June 7
Started making the basis of Tormas using wood.
June 8
Meeting with the volunteer staff. He explained what he was going to do during his residency.
June 10
Started making Tormas. He made the base with kneaded flour, covered it with butter making shapes, and coated with orange colored butter. He concentrated in making Tormas from this day.
June 11
A Tibetan former monk living now in Fukuoka, Mr. Gelek, came to support his creation as a local supporter.
June 18
Presented a lecture at Chikushi Jogakuen University showing how to make Tormas. (120 people participated)
June 21
Completed 11 large and small Tormas and offered them on the altar in the Exhibition Gallery.
June 22
Made another Torma in the morning and presented a gallery talk in the afternoon. (85 people participated)
Later he took part in the workshop by Soeung Vannara and flew a kite at Momochihama beach.
June 25
Viewed lotus flowers that he had never seen in his life to the Fukuoka Castle ruin.
July 4
Left Fukuoka.
Resident artists from the same year