Born in Kushtia, Bangladesh 1965. Received MFA from Institute of Fine Art, University of Dhaka 1991. Has participated in many international exhibitions, including the 9th Asian art Biennale Bangladesh 1999 (Bangladesh National Museum, Dhaka, 1999). Visited Hiroshima, Kyoto and Tokyo in 1998 under the South Asia Youth Invitation Program, Ministry of Foreign Affairs,Japan. Work primarily lithographs and etchings on the Bangladesh war of independence and anti-war themes.
[Residence Program] May 8, 2000〜Aug 8, 2000
Exchange activity
The artist produced prints at the print studio of Kyushu Sangyo University. With the cooperation of faculty members and students, about a dozen paper lithographs and etchings on anti-war themes were completed. About half of them touched on the Hiroshima atomic bomb and the remainder on the Bangladesh war of independence, but in all there was a strong message of peace. The artist engaged in a variety of other activities as well, including a workshop on paper lithography for parent-child teams, and a joint production of the poster for Focus on Asia 2000 – Fukuoka International Film Festival with Fukuokan designer Matsuura Kanako.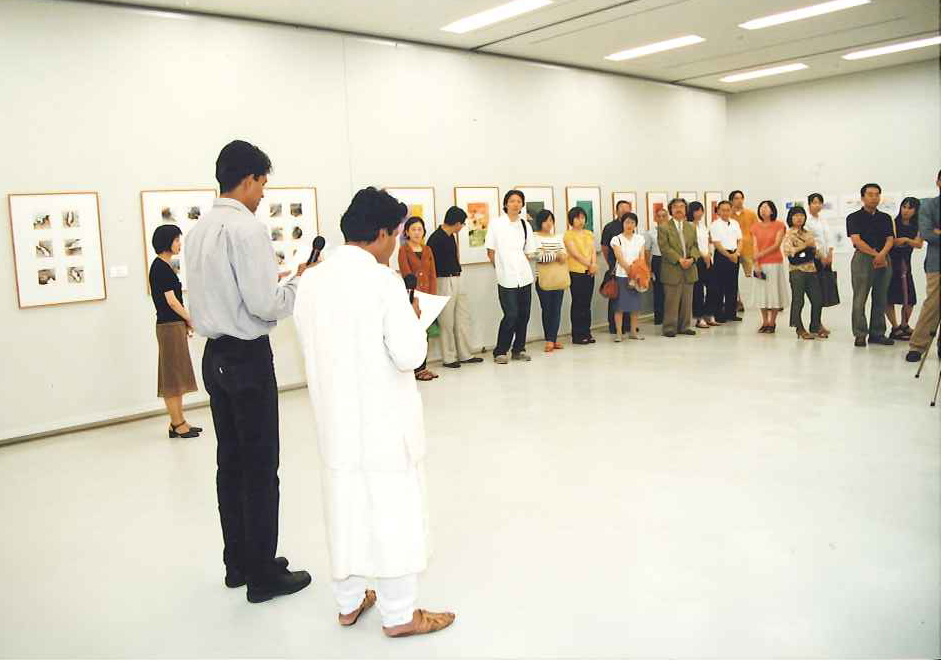 Activity schedule
May 8
Arrival in Fukuoka.
May11
Tour of Kyushu Sangyo University (KSU). Production at print studio.
May13
Explanation of activity plans for in-residence period to volunteer staff members at AJIBI Hall. Volunteer staff members assigned.
May15
First meeting on production of poster for Focus on Asia 2000 – Fukuoka International Film Festival.
May16
Viewed opening performance at Sasa Kyoko Exhibition, held at Art Space Baku.
May17
Began study of Japanese language at Sawara Civic Center.
May18
Preparations for print production at KSU.
May23 
Began study of Japanese language at Fukuoka International House.
May29
Began full-scale print production, commuting to KSU through the end of July.
June3
Attended Iris Festival with Professor Utagawa Norito of KSU and others.
June18
Trip to Daizaifu with volunteer staff members and Tomotari Mikako.
June19
Honorary visit to mayor of Fukuoka City.
July 1
Visited woodblock print artist Saito Hidesaburo.
June22, 23
"Asia Family Workshop, Workshop for prints (paper lithograph)", held by Fukuoka City Foundation for Arts and Cultural Promotion, with 37 participants.
August 3
Attended lecture at AJIBI Hall by Indonesian artist Krishna Murti.
June5
Preview of the works he made in residence held at Open Studio, with 43 participants.
June8
Departure.
Resident artists from the same year