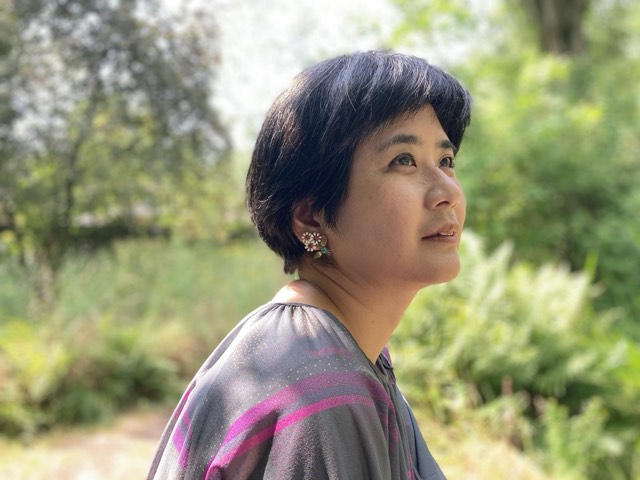 Born in 1976, Lives and works in Tokyo, Japan
2020, 2021 "フレ フレ Ostrich!! Hayupang Die-Bow-Ken!" , APAF 2020 (scenography and costumes)、"Tokyo Festival 2021" (co-production of scenography and costumes) , Tokyo
2020, 2021, 2022 "Month of Arts Practice", Artist-in-residence program organized by Heritage Space, Hanoi
2020, 2021 "Before You Dream", collaboration with Suzuki Ryuichiro, Artist-in-residence program organized by Kinosaki Art Center in Kinosaki, Japam
2022 "TEXTILE POSTERS", exhibition put together in an occasion of publishing the book "Shimizu Tokuko: TEXTILE POSTERS," collaboration with Gottingham, Øyvind Renberg and Shimizu Tokuko, exhibition planned by Iwanaka Kanako, HAGI ART, Tokyo
※Portrait photo by Heidi Vogels
[Residence Program] Jul 10, 2023〜Sep 27, 2023
Shimizu Miho Official website
Profile
Using textiles as her main material, Shimizu creates sets for live events and video productions, as well as costumes and props for performers and dancers. She is interested in the way the shape and meaning of her creations are transformed by the performer's movements, and has been working on sets in which the performer disappears and reappears, and humorous costumes that cover the face and/or parts of the body, transforming the performer into a monkey or an ostrich.
In recent years, she has been exploring themes such as dreams, puppetry, and kites, through exchanges with local communities and professionals in the field. In Fukuoka, Shimizu will research traditional kite culture in Kyushu, using a pair of eye-shaped kites she made with Vietnamese craftsmen as a starting point and create works that reflect her encounters with people and stories.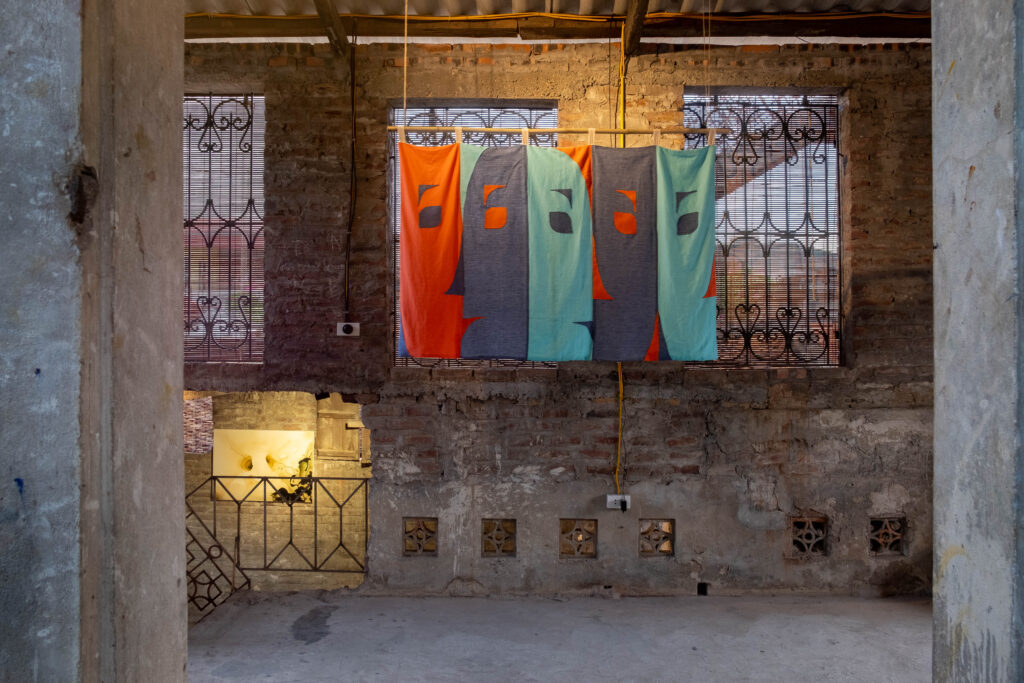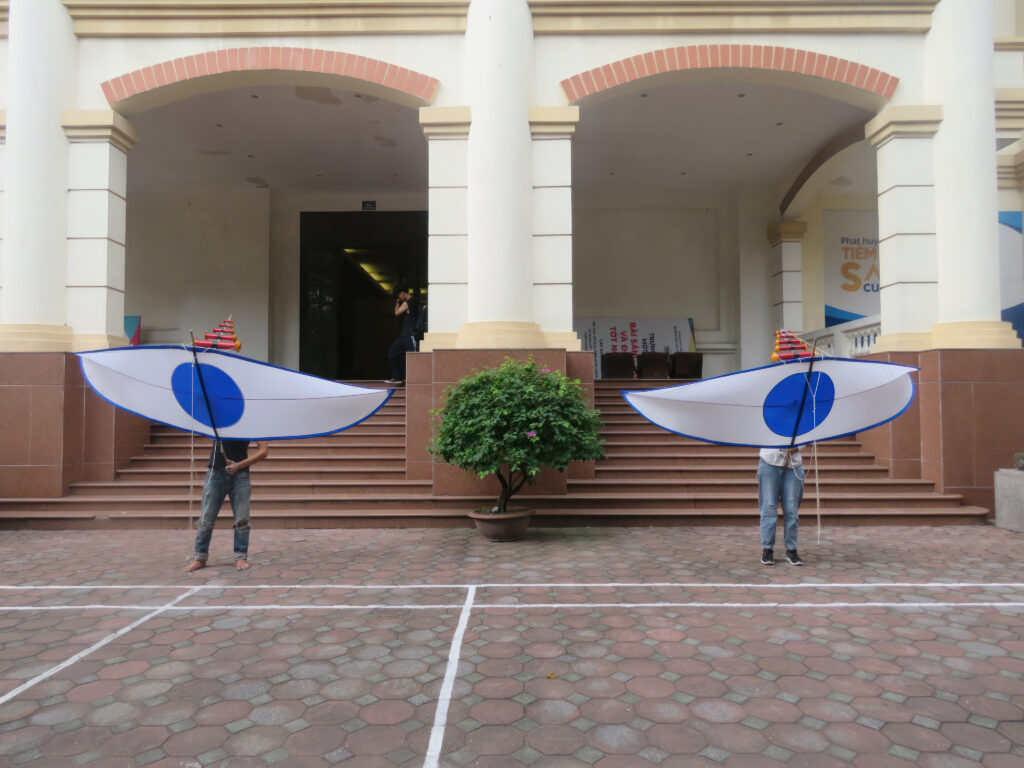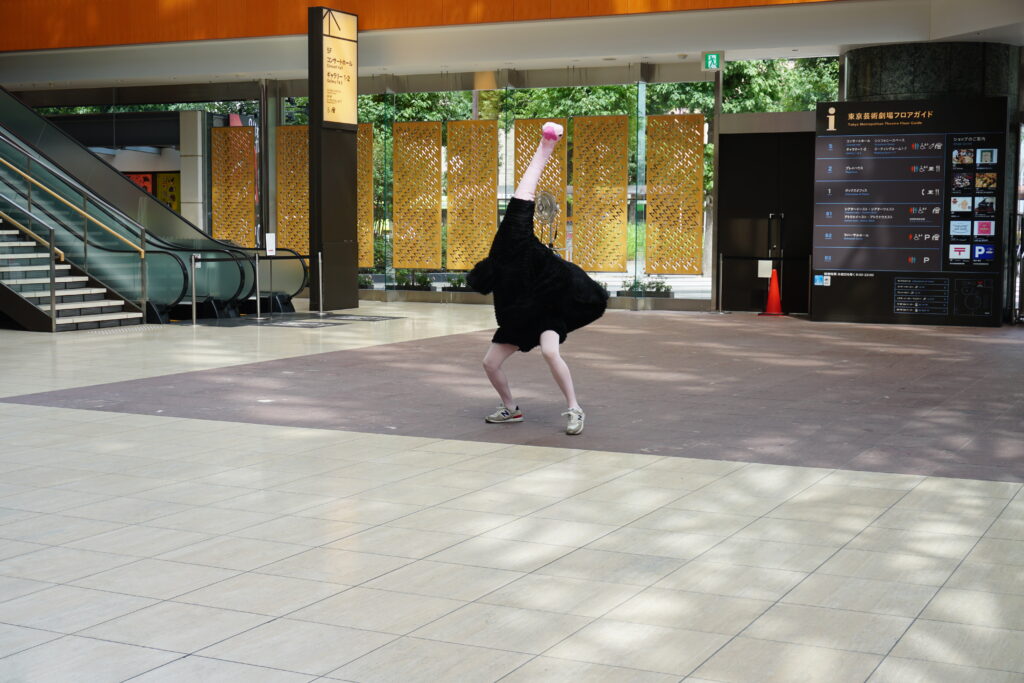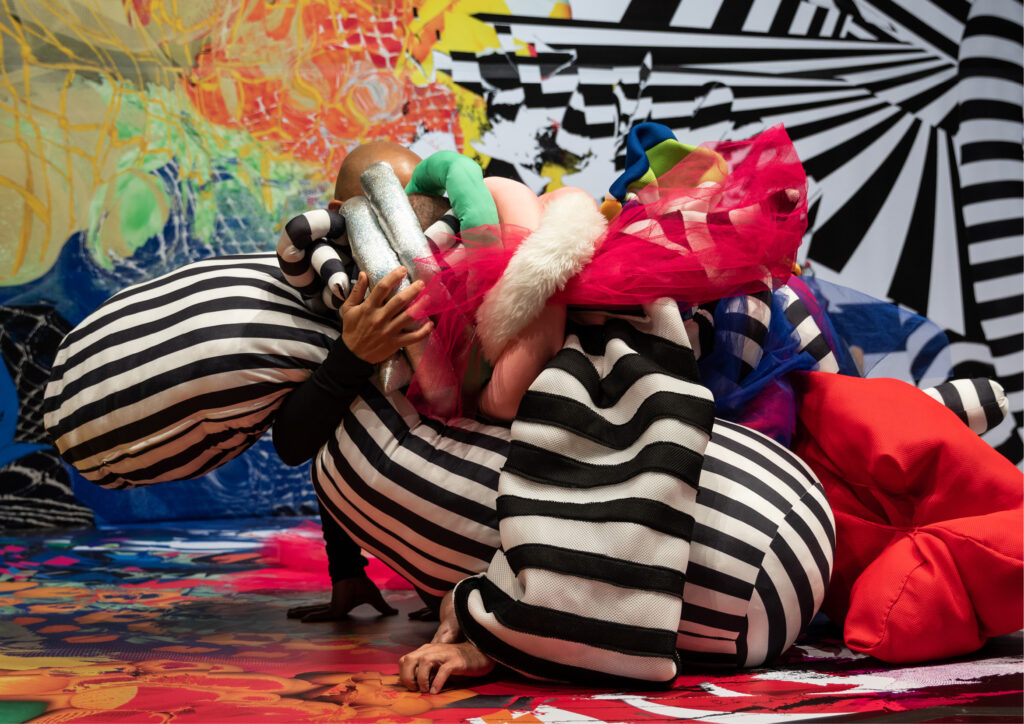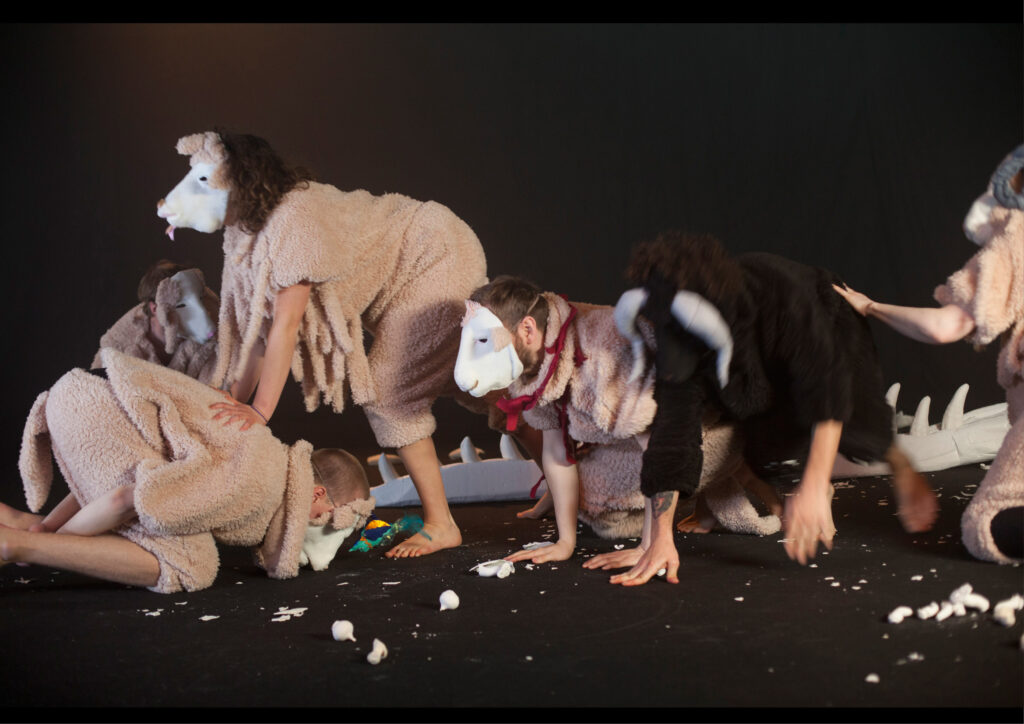 WINDS OF ARTIST IN RESIDENCE 2023 Dialogue ―― Deeper and Further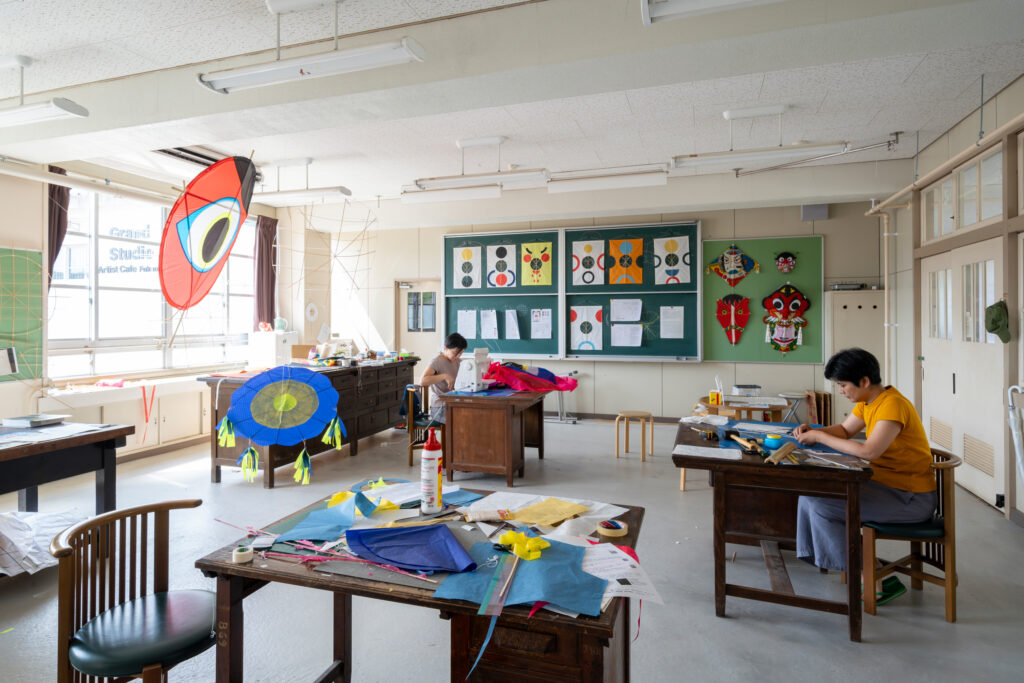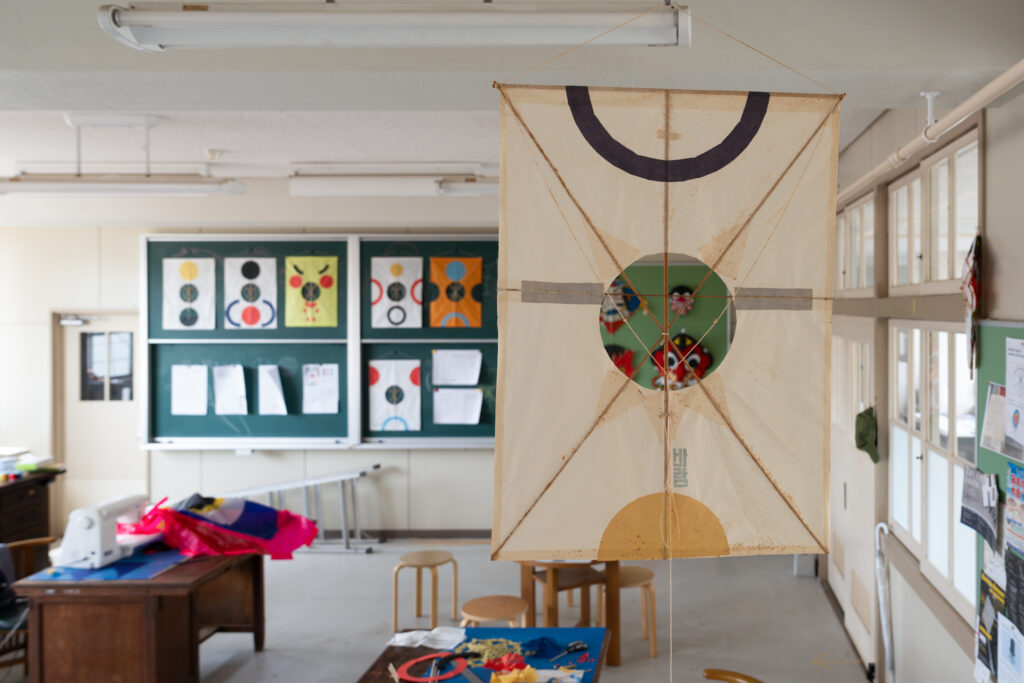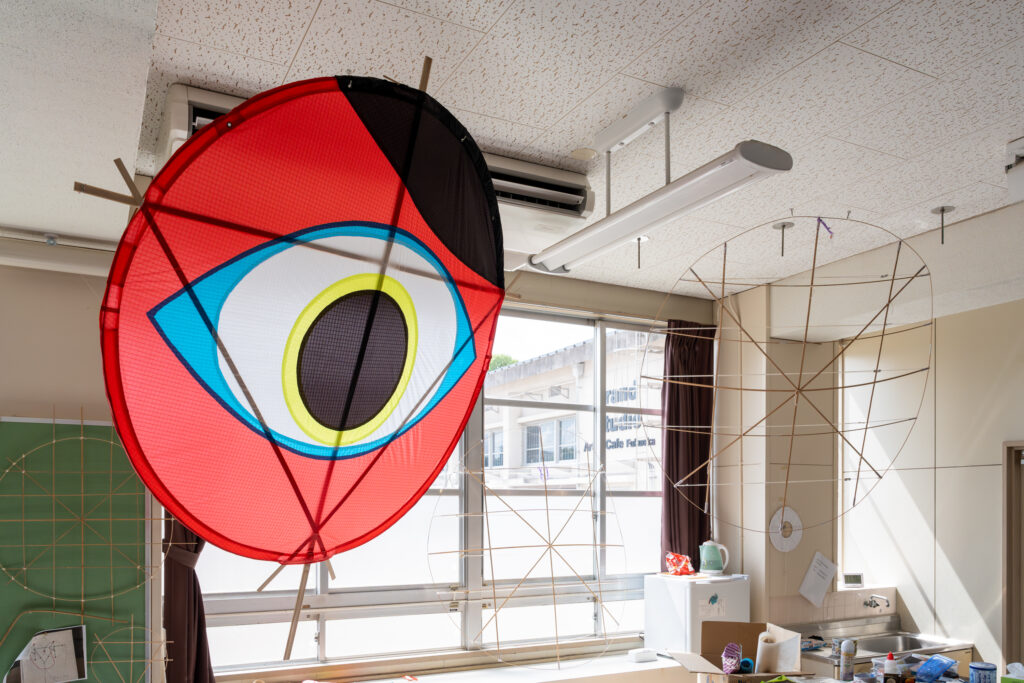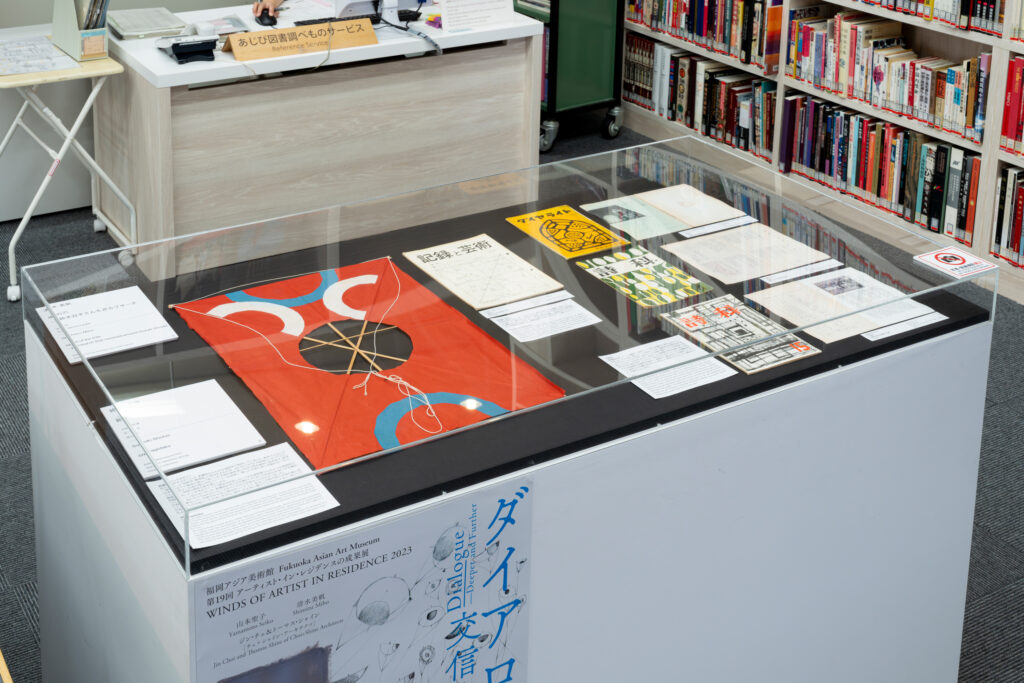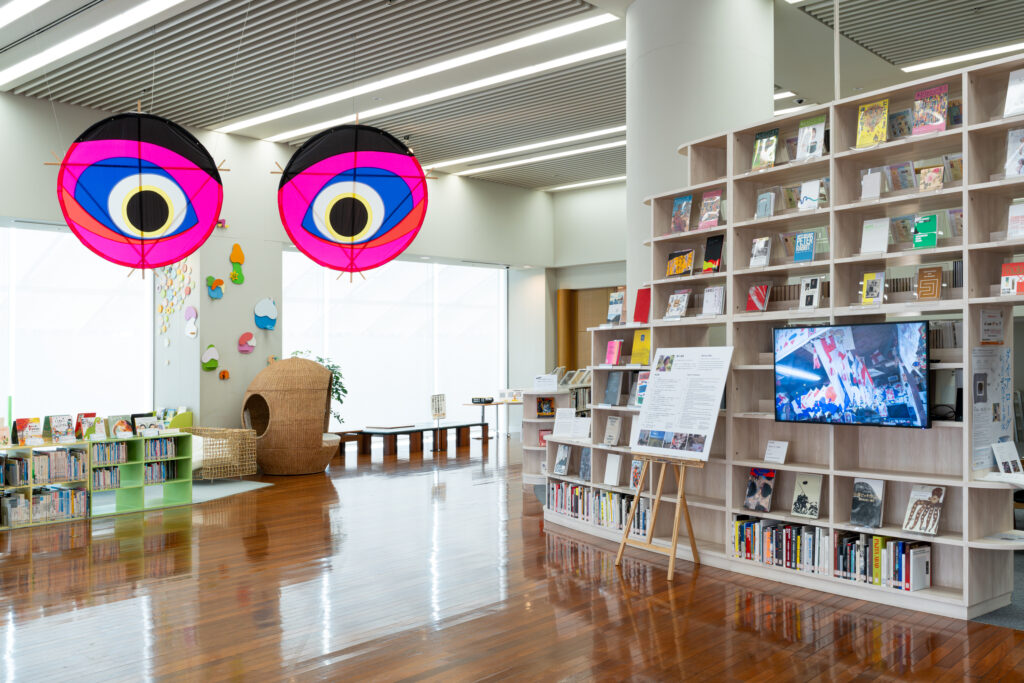 Interaction Diary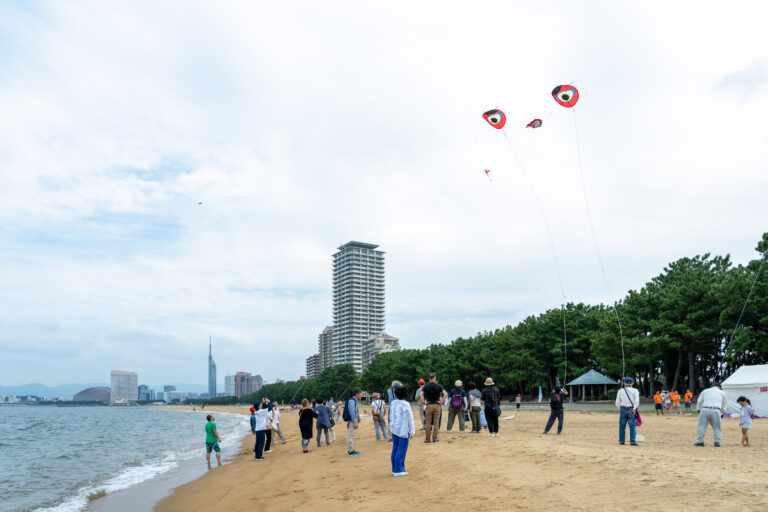 October 1-The 16th Umippi Kite-Flying Contest
Shimizu brought two different kites made in Fukuoka and in Vietnam to fly them at a local kite-flying contest in Marinatown City Beach Park in Atagohama. With advice from manykite-lovers, she could successfully fly the kites high up in the sky.
Photo credit : KAWASAKI Ittoku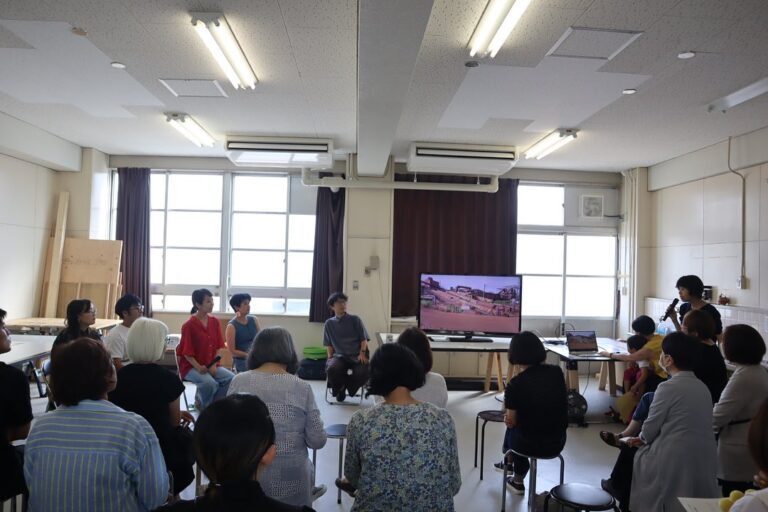 September 23 – Talk Session on Residency Program – "Dialogue"
(Studio, Artist Cafe Fukuoka)
Shimizu and another residency artist Yamamoto Seiko, together with Nagano Sakurako and Shimodera Takanori, the two artists from the last year's residency program who jumped in on the day, talked about what they felt good about FAAM AIR program. They also exchanged frank opinions about what improvements can be made and some other prospects for the residency program.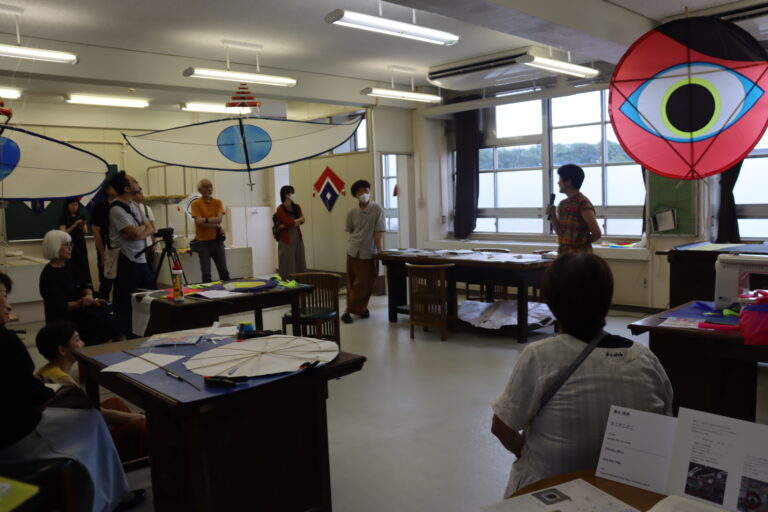 September 17 – Gallery Talk : Yamamoto Seiko + Shimizu Miho + Jin Choi and Thomas Shine
(Artist Cafe Fukuoka) 
Shimizu not only shared the story of Suzuki Shohei, a poet who created Shiragi-dako(kite), but also touched upon the outcomes of her research in Iki island, Nagasaki, Hirado, and Kitakyushu. She also invited the audience to visit the kite-flying contest which was scheduled to take place in Atagohama on October 1.
September 16 – October 22 – Residency Exhibition WINDS OF ARTIST IN RESIDENCE 2023 Dialogue : Deeper and Further
(Studio, the Artist Cafe Fukuoka)
New artworks by Shimizu Miho at the Art Cafe, Fukuoka Asian Art Museum
Photo credit : KAWASAKI Ittoku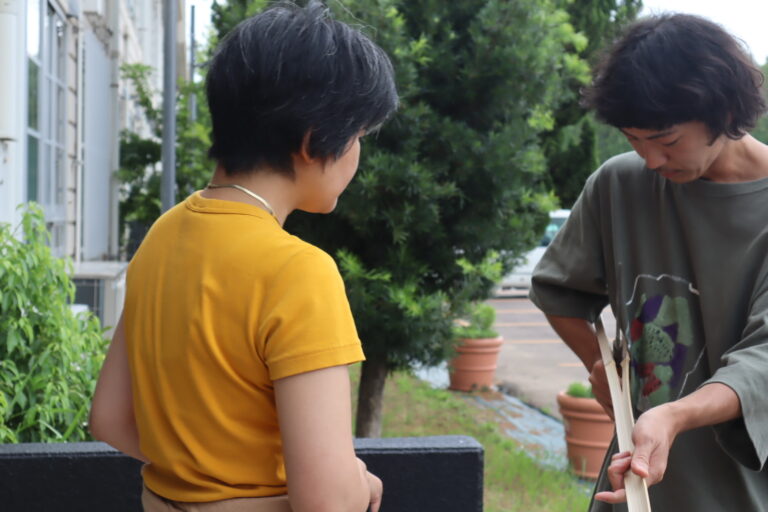 September2-Experimenting bamboo for kites
Shimizu learned some curving techniques of the bamboo which will be used for her kite. With instruction given by another artist Noguchi Tappei, she tried many different ways.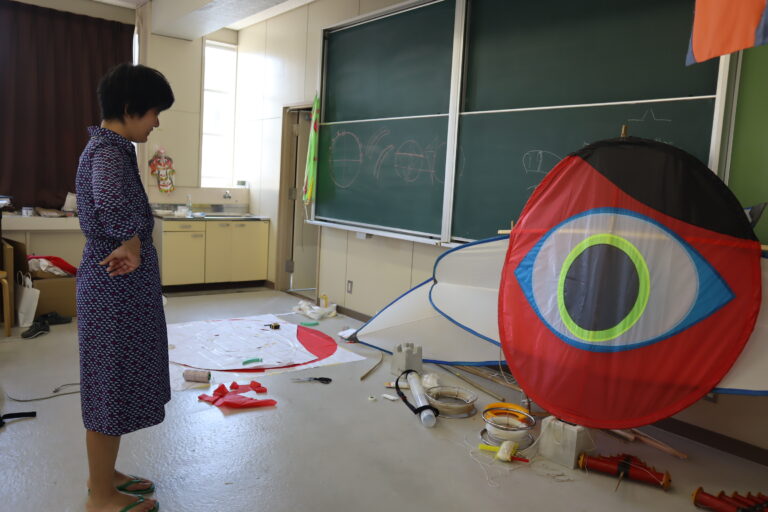 August 26―Making the new Kite
Artist at work, making the kite in studio. Technically it is very difficult to make a kite with good design and feature.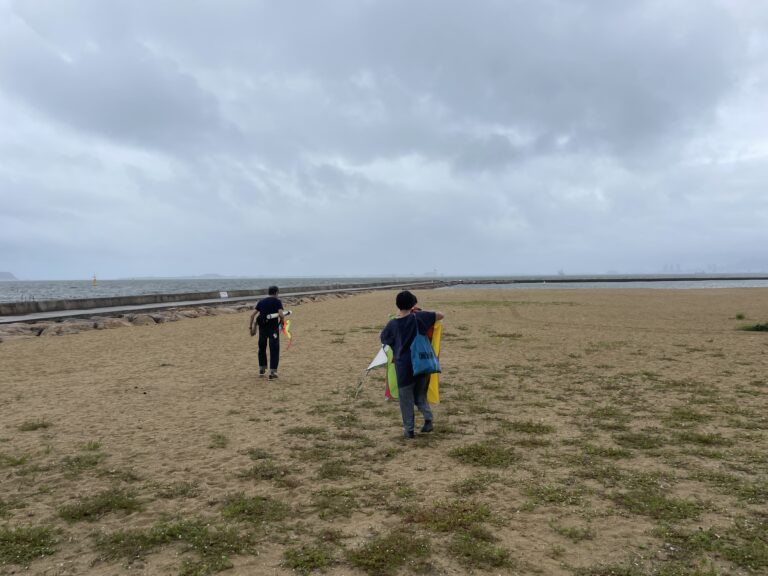 August 15-Testing to Fly the Kite
Shimizu went to Marinatown City Beach Park (Atagohama), the venue for a local kite-flying contest, to test flying her own kite. The kite was interrupted by the very strong wind on the beach at first, but eventually went up high in the sky.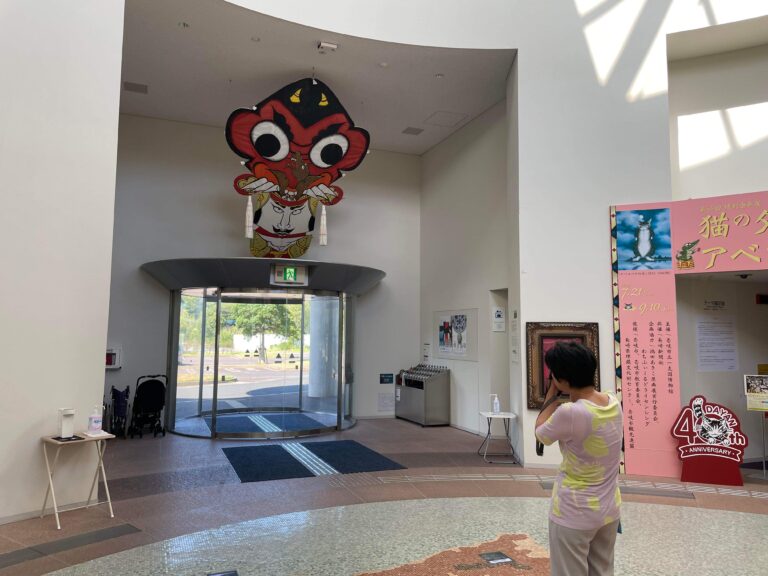 August 11-Visit to Iki Island
Shimizu went on a day trip to Iki island in Nagasaki, a famous place for Ondako, a traditional local kite. After visiting Ondako Kobo Hirao where she tried decorating kites, Shimizu also visited Sakyobana, a place for kite lovers to fly the kites. She also went to Iki City Ikikoku Museum, and some other places such as Onino-iwaya Kofun(ancient tomb), Kakegi Kofun, Soroku Kofun, and Onino-ashiato(which means a demon's footpint, a large hole of a rock formation).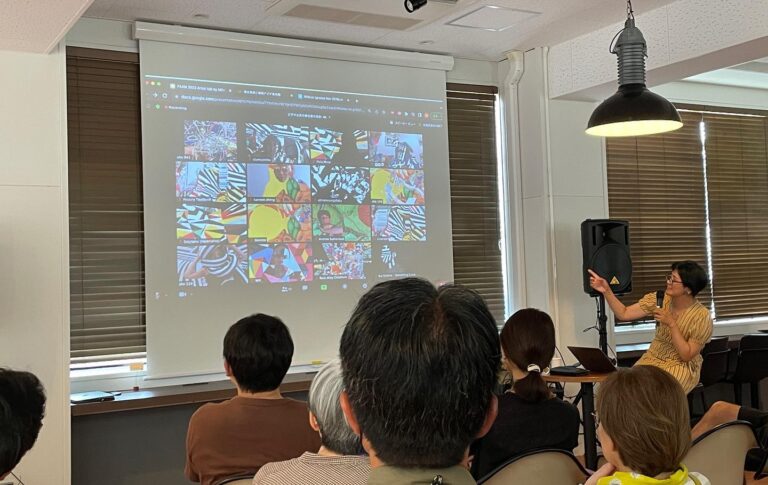 July 23 – Artist Talk : Jin Choi and Thomas Shine + Yamamoto Seiko + Shimizu Miho
(Held at the community space at the Artist Cafe Fukuoka)
Shimizu introduced her past video and installation works and talked about the recent themes she has been focusing on, such as dreams, puppetry, and kites. The artist also shared her plans for research about the traditional cultures of kites in Kyushu.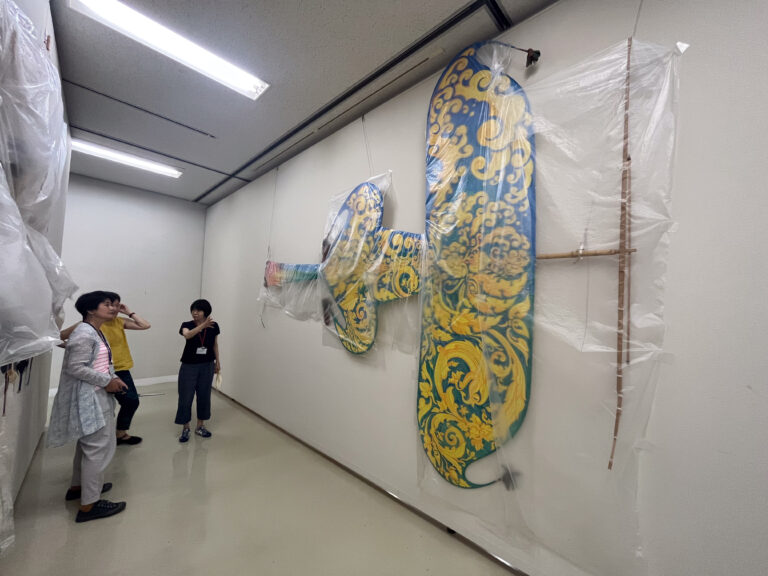 July 19 – Research about Kites
Since she was planning to make a new artwork on a theme of kite, Shimizu went to FAAM to see the work by Soeung Vannara, one of the previously invited residency artists in 2002, who made works of kites.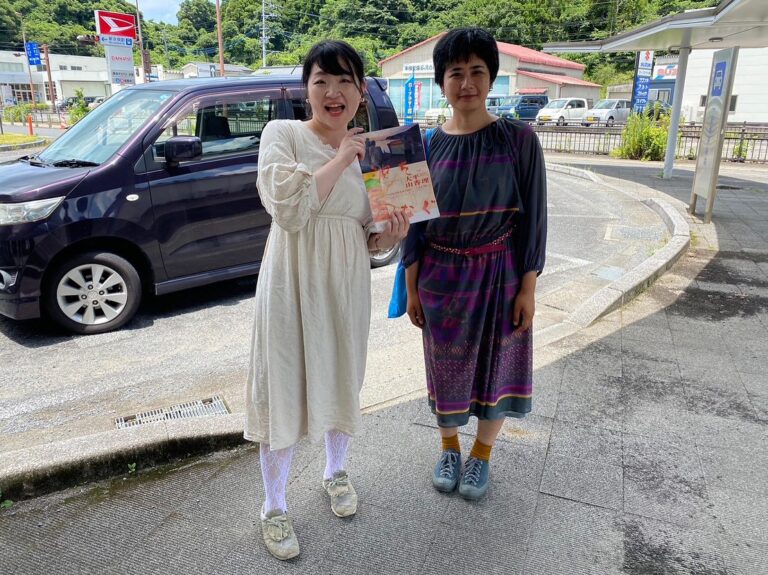 July 17-Visit to Tsunagi Art Museum
The artist travelled to visit Tsunagi Art Museum in Kumamoto prefecture and saw their residency artist's exhibition. Shimizu met Ohira Yukari the invited artist for the exhibit, and some other local artists from across Kyushu such as Kumamoto, Oita, and Miyazaki as well as people who works in the art field.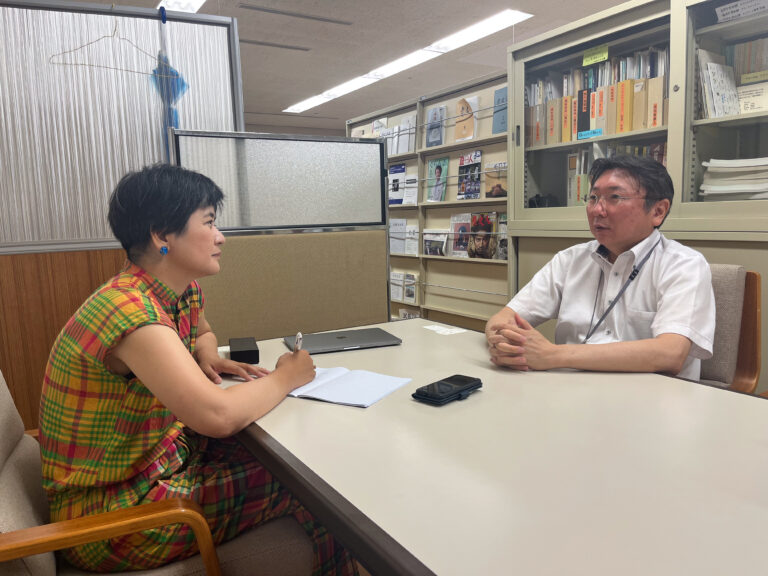 July 13-Visit to Fukuoka City Museum
Shimizu saw the exhibition in the city museum and inquired the curator Matsumura Toshiki about the history and design of kite in Kyushu.
July 11 – First day in Artist Cafe Fukuoka
After receiving a guidance from FAAM curators and coordinators, Shimizu shared the plan for her research and art-making during the residency.
Resident artists from the same year