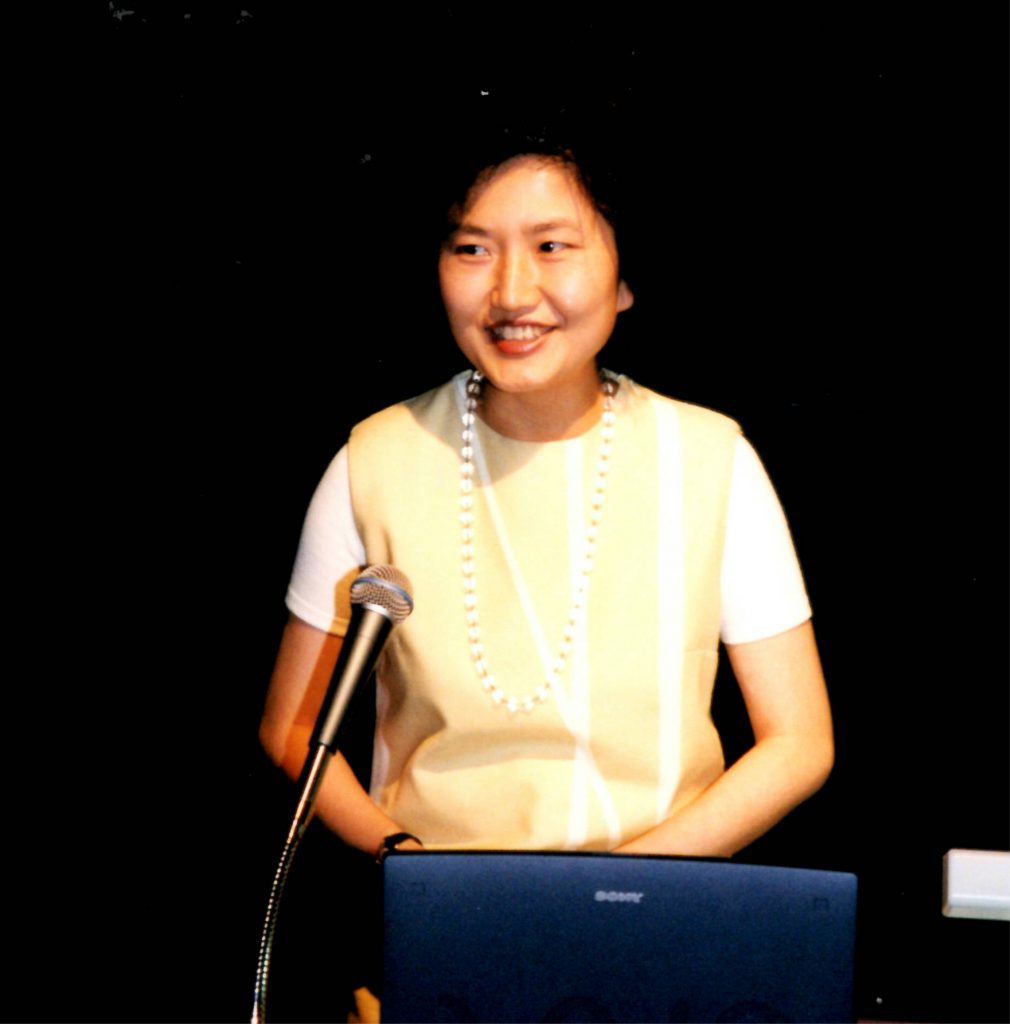 Born in Keelung, Taiwan 1963. After Guraduated from Faculty of Foreign Language and Literature, National Taiwan University 1986, she completed MA Comparative Culture, Asian Studies, Sophia University in 1992. Worked at the Taipei Fine Arts Museum from 1993 to 2000. Lives in New York City and is a Ph.D. candidate at the Institute of Fine Arts, New York University from 2001.
[Residence Program] May 14, 2001〜Aug 15, 2001
Exchange Activities
Lee Yulin was involved in the selection of Japanese artists for the 2nd Fukuoka Triennale. She energetically met artists not only in Fukuoka but in Kanto and Kansai regions, and visited museums and galleries. After the residency program, she came back to Fukuoka to host a symposium to present the achievement of her residency program.
Activity Schedule
May 14
Arrived in fukuoka.
May 19
Explained her plan of activities during the residency to the FAAM volunteers in AJIBI Hall. Volunteer staffs were assigned.
May 21
The chief Curator Ushiroshoji lectured on the outline of the Fukuoka Asian Art Museum in general.
May 25 to 28
Research trip to Chubu and Kansai regions. Visited Toyota Municipal Museum of Art, Art Space Niji, Voice Gallery, etc.
June 12
Visited Fukuoka Art Museum.
June 16
Went to Dazaifu and Futsukaichi with volunteer staff. Visited Kyushu Institute of Design.
June 21
Visited Hakata Elementary School to see its new facilities.
July 1 to 6
Research trip to Tokyo. Visited Museum of Contemporary Art, Tokyo, Yokohama Museum of Art, Watarium Museum of Contemporary Art.
July 12
Visited Gallery SOAP in Kitakyushu to meet contemporary artist Miyagawa Keiichi.
July 19,20
Attended the Selection Committee meeting for the 2nd Fukuoka Triennale.
July 21,28
Taiwanese Art Lectures at the AJIBI Hall.
August 2
Visited the studio of a ceramist Matsuo Ichiro in Tosu City.
August 4
Visited Kumamoto for a research on architecture.
August 15
Left Fukuoka.
March 17
Returned to Fukuoka.
March 21
Hosted a symposium 'Artists and Artist-space in Asia: Growth, Interactivity and Creation' (120 people attended, )
March 25
Left Fukuoka.
Resident artists from the same year