Born in Kadipaten, Indonedsia 1962. Graduated from Fine Art Department, Bandung Institute of Technology 1991. Lives and works in Bandung.
[Residence Program] Sep 4, 2001〜Dec 4, 2001
Exchange Activities
Diyanto created a square room in the Open Studio with four walls on which he painted to create an installation work, 'Growing up in Bitterness'. He also conducted four performances during his residency. The series of his activities reflected his intention of objectively gazing and questioning the socio-political instability and the environment surrounding him in his own country through his stay in Fukuoka.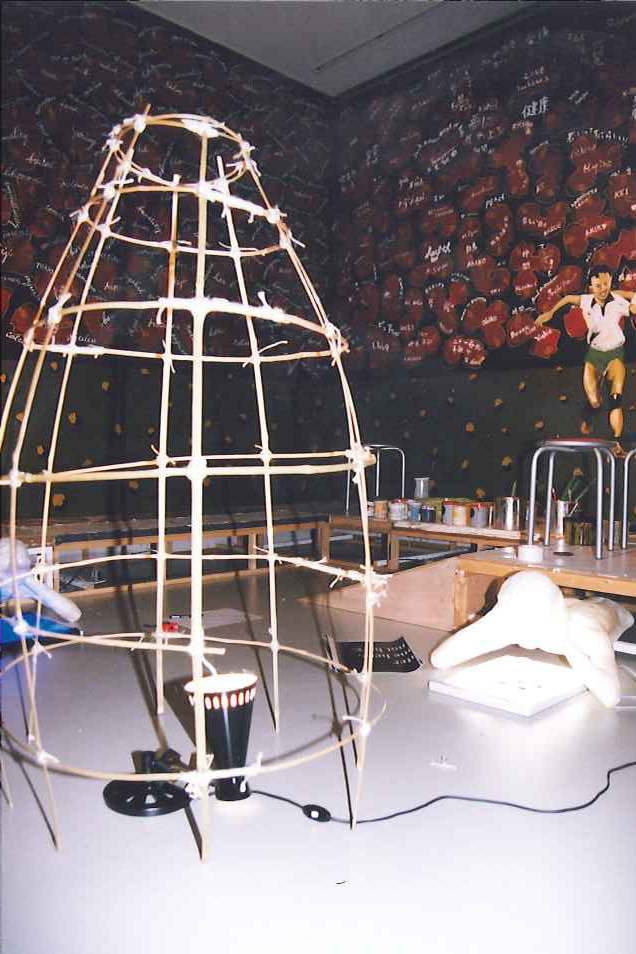 Activty Schedule
September 4
Arrived in Fukuoka.
September 8
Explained his plan of activities during the residency to the volunteer staff in the AJIBI Hall. Volunteer staffs were assigned.
September 9
Started making panels and plaster casting with Intern Matsunaga Mizuho. September 14
Listened the Gallery Talk by Thawan Duchanee in the Asia Gallery. September 11
Mr. Suzuki Atsushi, a contemporary artist in Kitakyushu, visited the studio. September 15
Viewed the painting performance by Thawan Duchanee at the Passage Square.
September 18
Went to Hojo-ya festival at the Hakozaki shrine with volunteer staff. September 20
Went to search for scrap iron.
September 21
Mr. Tsuda Mitsuo of the Kyushu Institute of Design came to cast Diyanto's head in plaster.
September 22 to 24
Participated in a paper-making workshop at the Fukuoka Art Museum. September 25
Trip to Dazaifu with his volunteer staff.
September 28
Prepared for his performance.
September 29
Held performance 'Connecting Me to Any World' at the Festa Square of Hakata Riverain. (75 people attended)
October 2
54 students of Karatsu Daiichi Junior High School visited Open Studio. October 6
Viewed Lantern Festival held in Hakata area.
October 9
Mr. Tsuda Mitsuo became the local associate artist for Diyanto.
October 13
Accompanied the volunteer study tour to Hiroshima Prefectural Museum of Art, Hiroshima City Contemporary Art Museum, Hiroshima Art Museum and Peace Memorial Museum.
October 16
Started preparing the workshop for Mitoma Elementary School.
October 22
Preparatory meeting with the students from Kyushu Institute of Design for the second performance.
October 27
Second performance at the Festa Square of Hakata Riverain, 'Under the Same Sun', performed with five students from Kyushu Institute of Design. (120 people attended)
November 1
Went to Itoshima area with volunteer staff Meeting with teachers from Mitoma Elementary School in the Open Studio.
November 9
Was interviewed by students from Fukuoka University of Education Fukuoka Elementary School.(5 students)
November 10
Visitors to the studio started painting a word for 'hope' on the installation wall.
November 12
Practiced the performance for Mitoma Elementary School with volunteer staff.
November 15
Conducted a workshop at Mitoma Elementary School.
(126 students participated)
November 24
Third performance at the AJIBI Hall, 'Fragile Border'.
(120 people attended)
November 27
Meeting with Mr. Tsuda Mitsuo for plaster casting.
December 1
Opened of "Winds of Artists in Residence 2001". Fourth performance, 'Growing up in Bitterness'. (110 people attended)
December 4
Left Fukuoka.
Resident artists from the same year