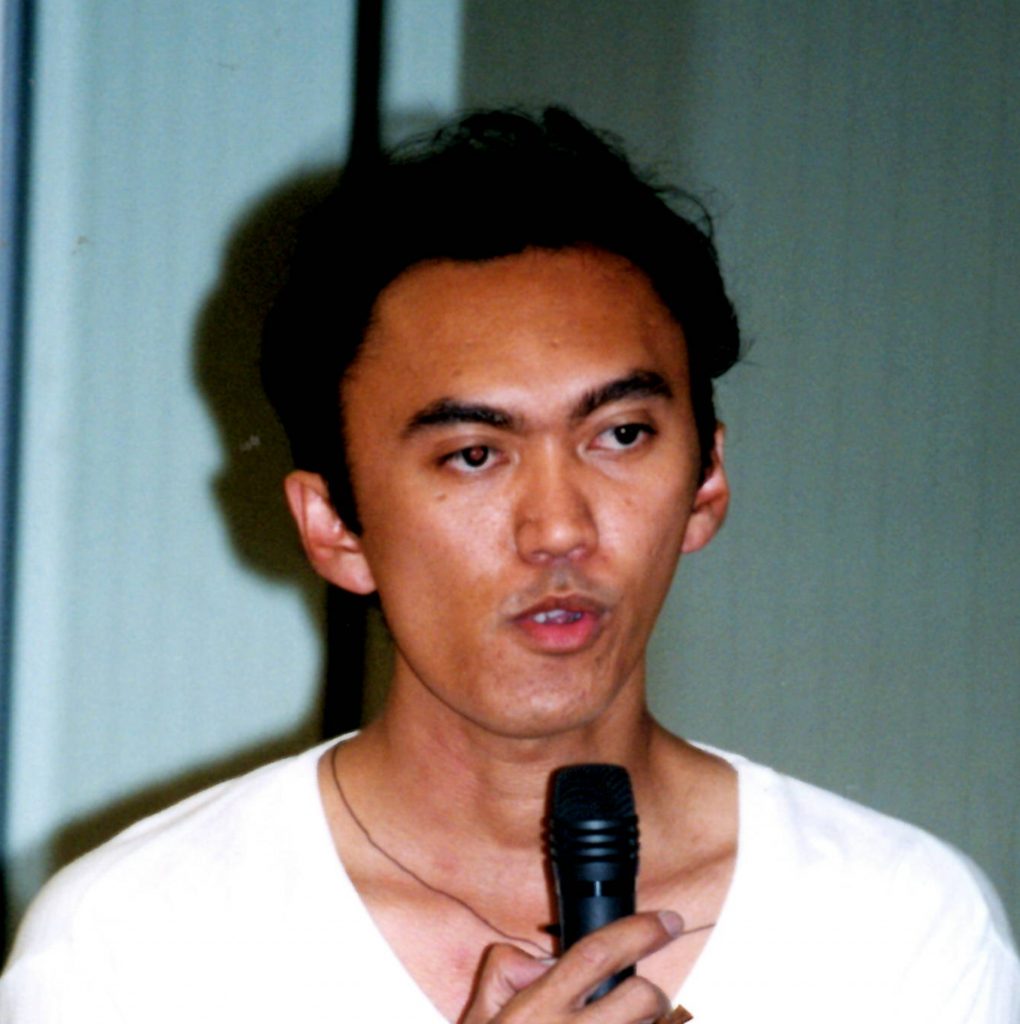 Born in Quezon City, Philippines 1972. Graduated from Bachelor of Fine Arts, Major in Painting; University of Santo Tomas 1993. Lives and works in Cavite.
[Residence Program] May 15, 2001〜Aug 14, 2001
Exchange Activities
D. Esquillo made a stereoscopic artwork, "Trip to Heaven", which is modeled after a jeepney, a carryall bus in the Philippines. He used a bicycle and a cart to build the frame and decorated its sides and roof with a "banig painting" (woven paintings), in which he used Christian illustrations and photos of Filipinos living in Fukuoka City. Since this work required more labor than he originally expected, many volunteers helped him. Right before he went back to the Philippines, he held a performance called "Trip to Heaven" in Artists' Gallery. The theme of the performance was about sinful believers who were looking for a path to heaven. He assembled scattered parts to complete the jeepney, rode on it and then drove it into a wall made of empty cans.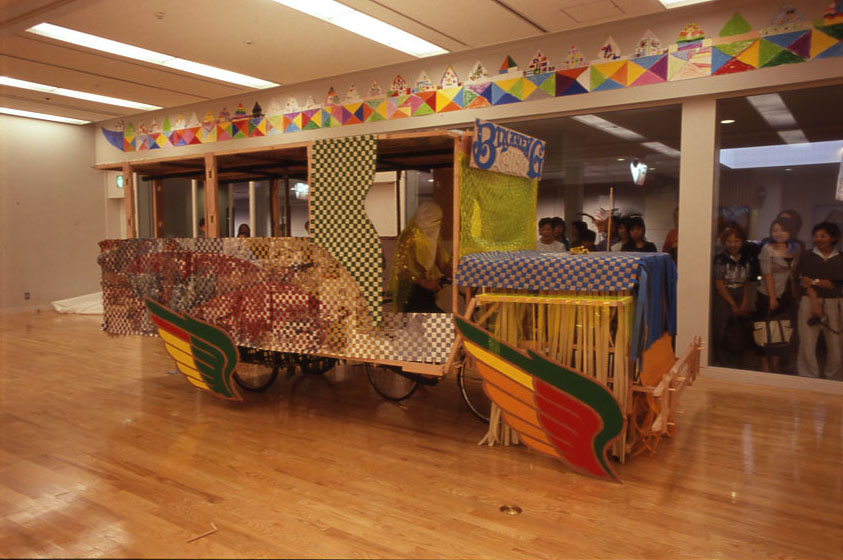 Activity Schedule
May 15
Arrived in Fukuoka.
May 16
Arrangement meeting on making posters of "Focus on Asia 2001-Fukuoka International Film Festival."
May 19
Explained his schedule during his stay in Fukuoka to volunteer staff in AJIBI Hall. Volunteers for him were assigned.
May 21
The chief curator Ushiroshoji lectured on the outline of the Fukuoka Asian Art Museum.
May 22
Visited lumber and hardware stores to look for materials for his artwork. He seriously started working on production around this time.
June 4
Mr. Kuroiwa Toshiya from Kyushu Sangyo University became his local associate artist.
June 7
Started making his artwork at the Loading Area.
June 12
Visited Fukuoka Art Museum.
June 16
Joined Kham Tanh Saliankham on a sketching trip to Dazaifu.
June 18
Started weaving the banig painting with his volunteer staff.
June 23
Consulted with Mr. Kuroiwa Toshiya and Mr. Tsuda Mitsuo from the Kyushu Institute of Design about making the artwork.
June 30
Made the frame of the jeepney with Mr. Tsuda Mitsuo using a cart and a bicycle at Kyushu Institute of Design.
July 1
Carried the assembled cart and the bicycle to the Asian Art Museum.
July 5
Had a Gallery Talk at the Asia Gallery. He put pins equally spaced on a panel for making the banig painting.
July 6
Accompanied Kham Tanh to attend his workshop at Wakamiya Elementary School.
July 7
Visited galleries in Fukuoka City. He saw the "Kawachi Tomoki Exhibition experimental typography -" (at Art Space Baku), "REAL AND IMAGINARY FLOWERS TOMATO PROJECT (at Mitsubishi-jisho ARTIUM) and "The Introduction of Taiwan's Contemporary Art Vol.9/ SHIH-FEN LIU" (MOMA Contemporary).
July 8
About 20 or more volunteers drew Japanese images on A3 size paper and laminated them. After that everybody wove the banig painting.
July 13
He was asked to do a workshop at Haruyoshi Elementary School and he started getting ready for it with his volunteer staff. He started collecting a tremendous amount of empty cans around this time. The volunteer staff cleaned and sorted the collected cans.
July 14
Attended a reception of Rirkrit Tiravanija's "Passage Cosmo 2001" (at CCA Kitakyushu Project Gallery)
July 15
Watched Hakata Gion Yamakasa Oiyama festival at dawn.
July 18
Had a workshop at Haruyoshi Elementary School. (61 students attended)
July 21
Saw "Medieval Hakata Exhibition" in Sea Side Momochi Park.
July 26
Started collecting 70 bed sheets for the performance.
July 29
Held "Asia Family Workshop: Banig Painting (woven paintings) at Artists' Gallery. (37 people attended)
July 30
Gave a lecture to Kashii Daini Junior High School art club members at Artists' Gallery. (18 students attended)
August 8
The volunteer staff started sewing the bed sheets.
August 10
Prepared for the performance until very late at night.
August 11
Had a performance "Trip to Heaven" at Artists' Gallery. (106 people attended)
August 12 to 26
Displayed his works, which were made during his stay in Fukuoka in Artists' Gallery.
August 14
Went back to the Philippines.
Resident artists from the same year