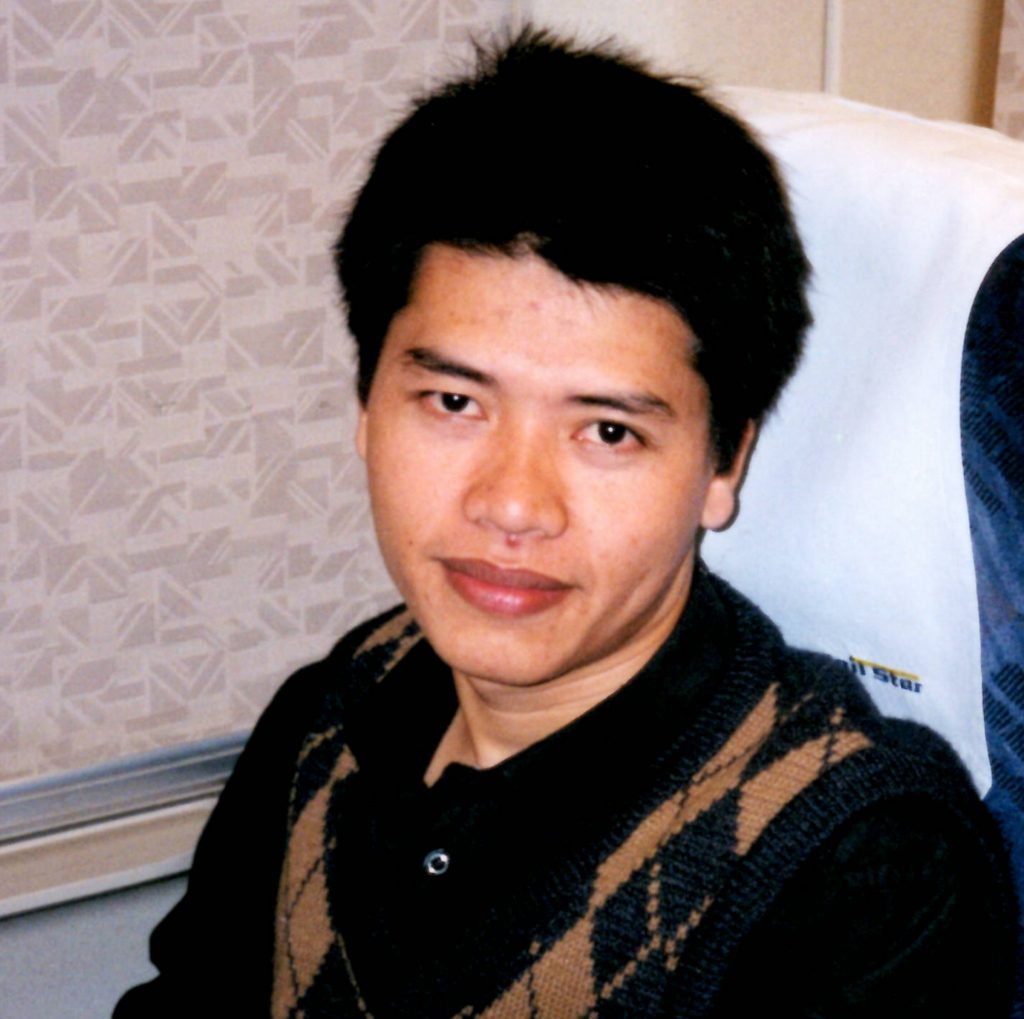 Born in Quang Ninh Province, Vietnam 1973. Guraduated from Hanoi Fine Arts Institute 1996. Lives and works in Hanoi.
[Residence Program] Sep 3, 2001〜Dec 3, 2001
Exchange Activities
Le Thanh Duc oil painted abstract pictures of the Vietnamese people and festivals at surprisingly fast speed. He completed more than thirty large and small paintings during the three months of his stay in Fukuoka. He also painted festivals in Vietnam and Japan on a hundred meters long wall in a vacant store space of a commercial building. He held a lecture on lacquer painting and introduced unique lacquer painting techniques from Vietnam.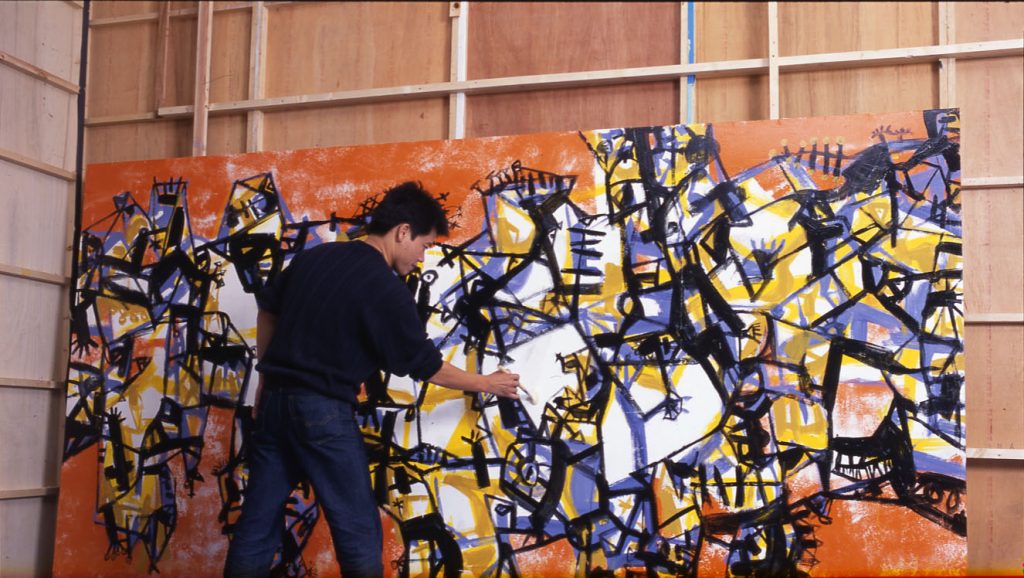 Activity Schedule
September 3
Arrived in Fukuoka.
September 8
Explained his schedule during his stay in Fukuoka to volunteer staff in AJIBI Hall. Volunteers for him were assigned.
September 11
Made wooden frames and stretched canvas on them.
September 14
Listened to Thawan Duchanee's Gallery Talk at Asia Gallery.
September 15
Saw Thawan Duchanee's painting performance in Passage Square. September 18
Had a lecture to Joto Junior High School students at AJIBI Hall.
(110 students attended)
Went to Hojo-ya festival in Hakozaki shrine with his volunteer staff.
September 22 to 24
Participated in a paper-making workshop at the Fukuoka Art Museum. September 25
Trip to Dazaifu with his volunteer staff.
September 26
Started painting a picture on temporary installed wall of a vacant store in the second basement floor of Hakata Riverain.
October 1
Started leaning Japanese.
October 6
Saw Lantern Festival held in Hakata area.
October 13
Accompanied volunteer study tour and visited Hiroshima Prefectural Art Museum, Hiroshima City Museum of Contemporary Art, Hiroshima Museum of Art and Hiroshima Peace Memorial Museum.
October 23
Mr. Sugimori Eitoku became his associate local artist.
October 25
Visited an exhibition "Motenashi". (At Fukuoka Prefectural Museum of Art) Joined an outdoors tea ceremony.
November 1
Trip to Itoshima area with his volunteers.
November 18 to 24
Had "Duc's Lacquer Painting Lesson". (9 people attended)
December 1
Opened "Winds of Artist in Residence 2001". Had a gallery talk.
(65 people attended)
December 3
Went back to Vietnam.
Resident artists from the same year