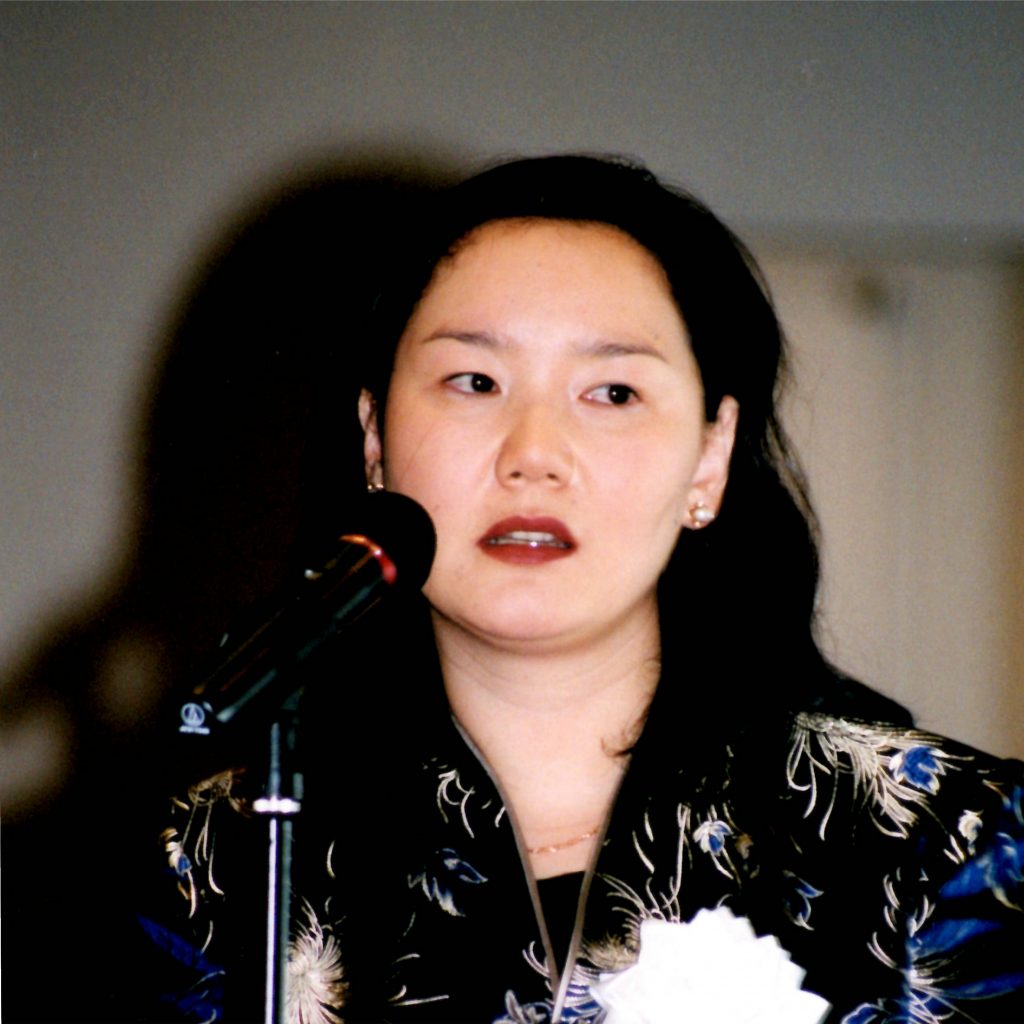 Born in Ulaanbaatar, 1964. She graduated from the Foreign Relations Institute, Mongolian National University, 1992. After studying management and methodology of cultural program at the Institute of Culture, Ukraina, she worked at the State Central Museum, Ulaanbaatar. She has been the director of the Mongolian National Modern Art Gallery since 1998.
[Residence Program] Sep 4, 2001〜Dec 3, 2001
Exchange Activities
Enkhtsetseg energetically researched and studied museum management and Japanese contemporary art. She also brought around 100 paintings from Mongolia to hold the 'Modern Mongolia' exhibition. Her activities were impressive, strongly supporting her intention of establishing art systems in Mongolia.
Activity Schedule
September 4
Arrived in Fukuoka
September 8
Explained her plan of activities during the residency to the FAAM volunteers in AJIBI Hall. Volunteer staffs were assigned. September 11
Gave a talk to Fukuoka Futaba Elementary School students in AJIBI Hall. (108 students participated)
September 12
Started learning Japanese from volunteer staff.
September 14
Listened to the Gallery Talk by Thawan Duchanee in Asia Gallery. September 16
Went to Hojo-ya festival at Hakozaki shrine with the volunteer staff.
September 22,23
Participated in a workshop of paper-making at the Fukuoka Art Museum.
September 24
Visited Kitakyushu City.
October 6
Viewed Lantern Festival held in Hakata area.
October 13
Accompanied the volunteer study tour to Hiroshima Prefectural Museum of Art, Hiroshima City Contemporary Art Museum, Hiroshima Art Museum and Peace Memorial Museum.
October 15
Visited Kurume University.
October 18
Appeared in a TV program at NHK Fukuoka Broadcasting Station.
October 25 to 28
Research trip to Tokyo. Visited Tokyo National Museum, Museum of Contemporary Art, Tokyo, Tokyo Station Gallery and Yokohama Triennale.
November 8
Opening ceremony for the 'Modern Mongolia'. Gave a gallery talk. Trip to Yufuin for one night.
November 10
Gave lecture on Mongolian modern art in the Exhibition Gallery. December 3
Left Fukuoka.
Resident artists from the same year