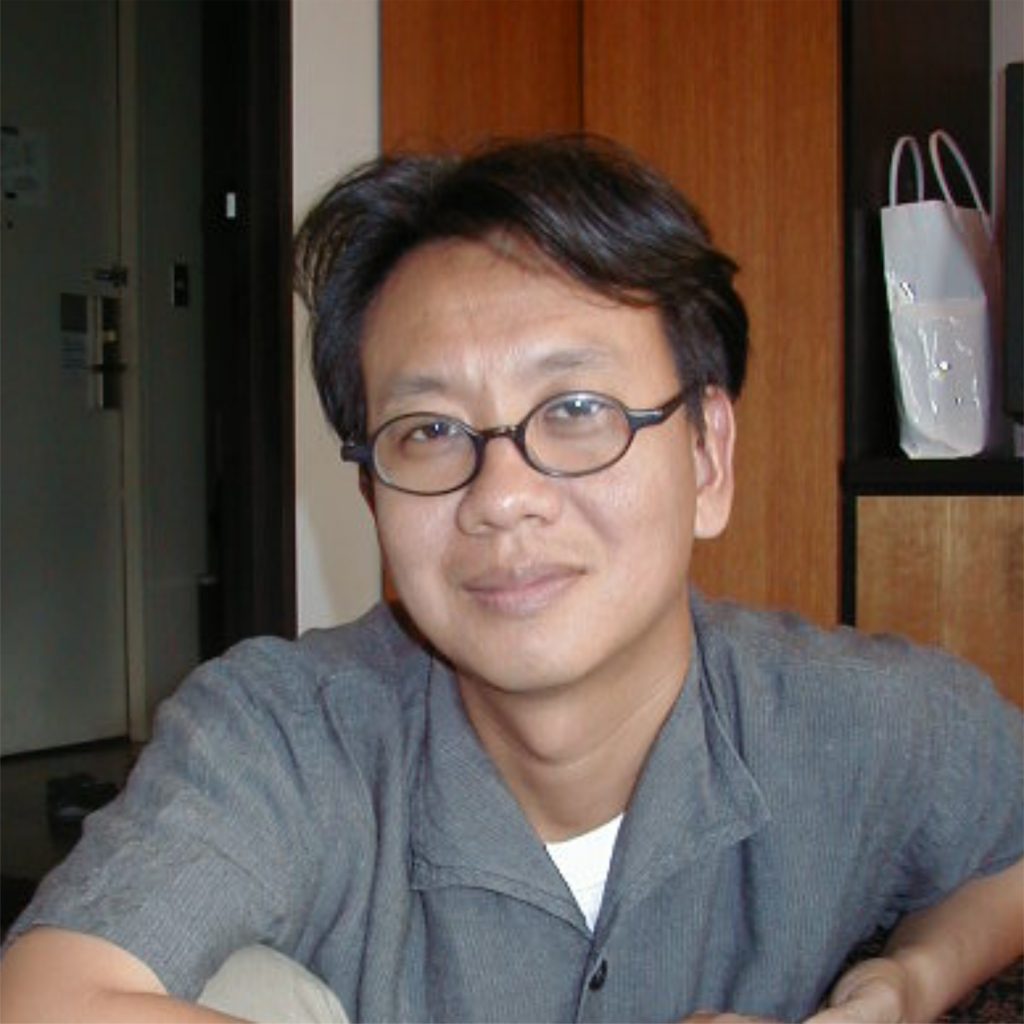 Born in 1964. Studied in the State Academy of Design, Karlsruhe, Germany after graduating from the fine art department, Silpakorn University, Thailand. Currently teaches sculpture at the Silpakorn Univeristy.
[Residence Program] May 15, 2003〜Aug 17, 2003
Exchange Activities
Jakapan Vilasineekul looked around Fukuoka city and found disused manhole covers, bicycles, drums and sign poles of barbershops. By combining these found objects, he made several artworks. Also, he did workshops for elementary and junior high school students two times and made art objects for poster of "Focus on Asia 2003 – Fukuoka International Film Festival".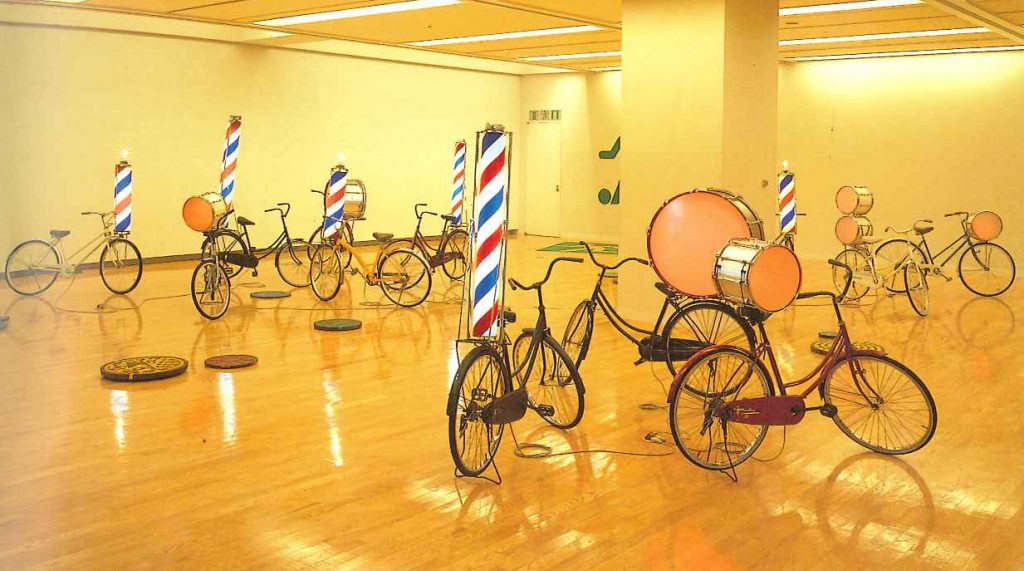 Activity Schedule
May 15
Arrived in Fukuoka. Had a discussion about plans of art making and workshops for junior high school students during his residency.
May 22
Had a discussion about poster making for "Focus on Asia 2003 – Fukuoka International Film Festival" with the film festival staff.
May 23
Looked around Fukuoka city and elaborated a plan of his artwork. He began to duplicate designs of manhole covers on papers by pencil.
May 25
Decided to make installation using manhole covers, bicycles, sign poles of barbershops.
May 26
Decided to make art object for poster making of "Focus on Asia 2003 – Fukuoka International Film Festival".
May 27
Visited a closed elementary school to find materials for his art making.
May 30
Held his workshop for 11 students of the Nakama Minami Junior High School in the Open Studio of FAAM. The participants made a relief by using flour and tried candy making.
May 31
Explained what he was going to do during his residency to the volunteer staff.
June 3
Completed his art object for the poster of the film festival.
June 4
Visited the Kyushu Hatoike Co. Ltd. to borrow used sign poles.
June 5
Revisited the closed elementary school to bring back disused drums and tiddlywinks.
June 9
Went to the Fukuoka city Chuo ward office to get manhole covers.
June 11
Went to the Fukuoka city Nishi ward office to get unclaimed illegally parked bicycles.
June 14
Visited the San-gousouko (Studio & Exhibition Space).
June 30
Appeared on a TV program, "Everyone's Fukuoka" for publicity of the Fukuoka city government. The TV program was shot around Gion town, Hakata ward,Fukuoka city.
July 12
Joined the Meeting Caravan held in the RS75m Gallery on the outskirt of Fukuoka city.
July 15
Viewed the Hakata Gion Yamakasa Oiyama Festival in the early morning.
July 19
Held his workshop "Let's make a work by using ordinary objects" in the AJIBI Hall. Under a theme "scenes found in Fukuoka city", twenty-four elementary students and their parents brought daily commodities and made artworks with them.
August 9
Held "Winds of Artist in Residence 2003 Part 1" exhibition in the Artists' Gallery of FAAM and presented a gallery talk.
August 17
Left Fukuoka.
Resident artists from the same year