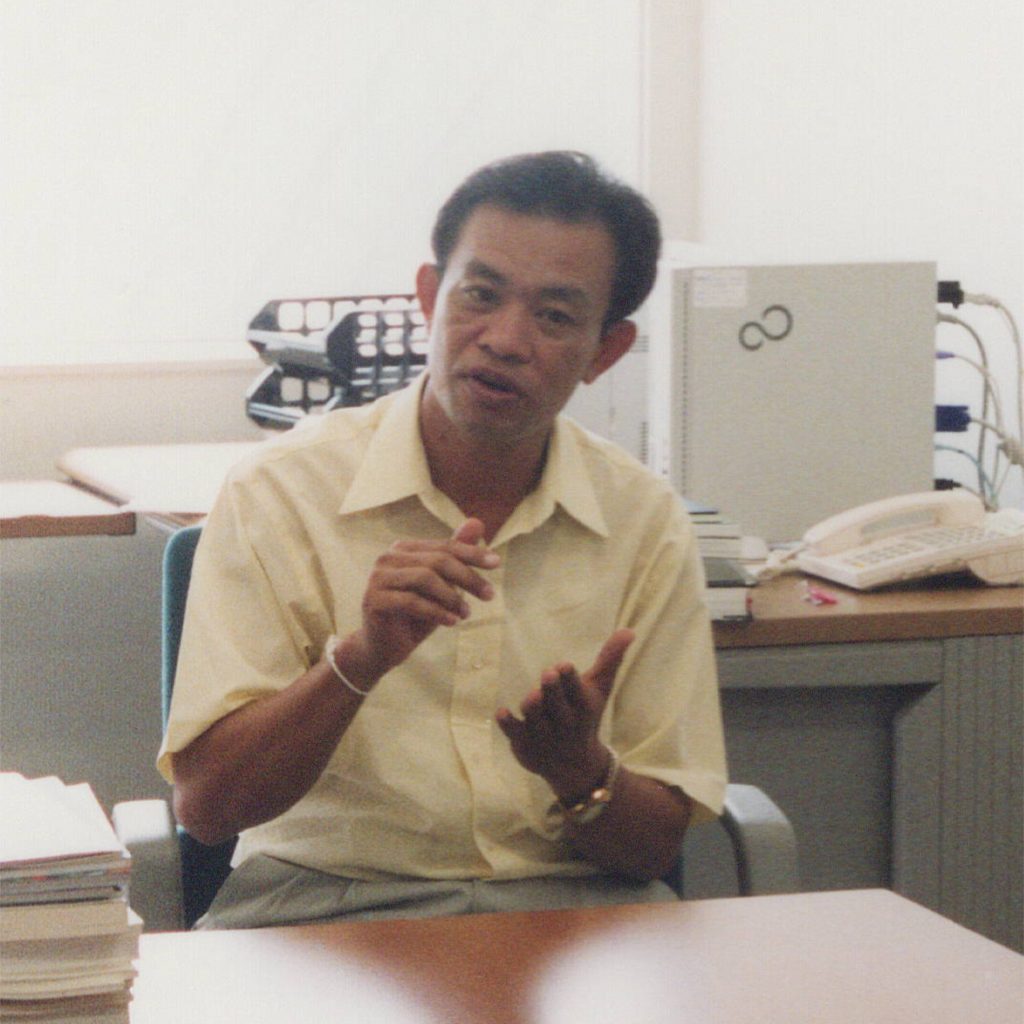 Born in 1957. Graduated from the National Faculty of Fine Arts in Vientiane before acquiring his Master's degree at the National Academy of Arts in Sofia, Bulgaria. Is currently Head of the Arts-Handicraft Research Division at the Institute of Cultural Research, Laos PDR.
[Residence Program] Sep 7, 2004〜Dec 7, 2004
Exchange Activities
Thoroughly researched the field of modern Japanese art and displayed a strong interest in animation. Also helped research participant artists from Laos for the 3rd Fukuoka Asian Art Triennale and held a workshop for parents and children, in which the group made traditional Laotian bamboo rockets and Kanha talked about his country's culture.
Activity Schedule
September 7
Arrived in Fukuoka nine hours late due to typhoon.
September 8
Held discussion about his residential activity and how to approach his research on modern Japanese art.
September 18
Explained course of his activities during residency to the volunteer staff.
September 27
Enlisted the help of Nakata Yoko from Kyushu University to study the history of modern Japanese art.
October 15
Visited Fukuoka Art Museum and began his inquiry into modern and contemporary Japanese art pieces. Kanha expressed a special interest in the modern-era portraits of Okada Saburosuke and watercolors of Yoshida Hiroshi, and contemporary work such as sculpture by Toya Shigeo.
October 28
Explained the meaning of his work 'Rocket Festival of That Luang', a work archived at the museum, to His Majesty the Crown Prince of Japan on his visit to FAAM on the day before the opening of the National Culture Festival.
November 4-8
Traveled to Tokyo for research purposes. Visited the National Museum of Modern Art, Tokyo, and other sites.
November 28
Held a workshop in making traditional Laos rockets, for parents and children. As well as making miniature versions of the bamboo rockets used at Laos' traditional rocket festivals, the group listened to Kanha talk about Laotian culture.
(Total participants: 18).
December 3
Displayed rockets made by parents and children at the workshop at the Sculpture Lounge, along with photos taken on the day.
December 7
Returned to Laos.
Resident artists from the same year