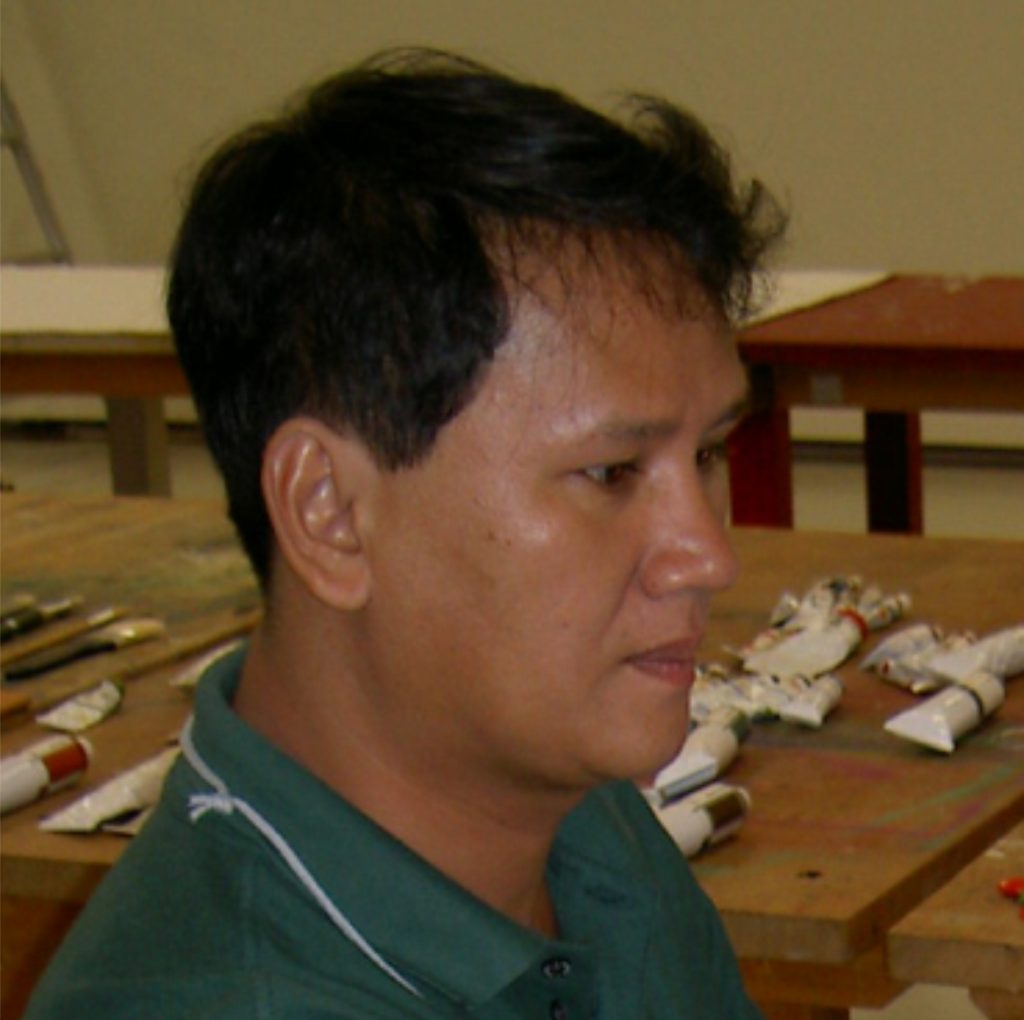 Born in 1965. Learned painting from esteemed Myanmar artists including U Ko Shwe Oung Thame. Known for his photo-realistic paintings featuring people, landscapes and plants as motifs.
[Residence Program] May 11, 2004〜Aug 8, 2004
Exchange Activities
In Myoe's portraits, elderly citizens dressed in the traditional clothing of Myanmar's mountain tribes and senior residents of Fukuoka were depicted using a photo-real painting technique. At his workshops for elementary school students, Myoe prompted inter generational exchange among the locals by asking the students to draw portraits of senior citizens in their area.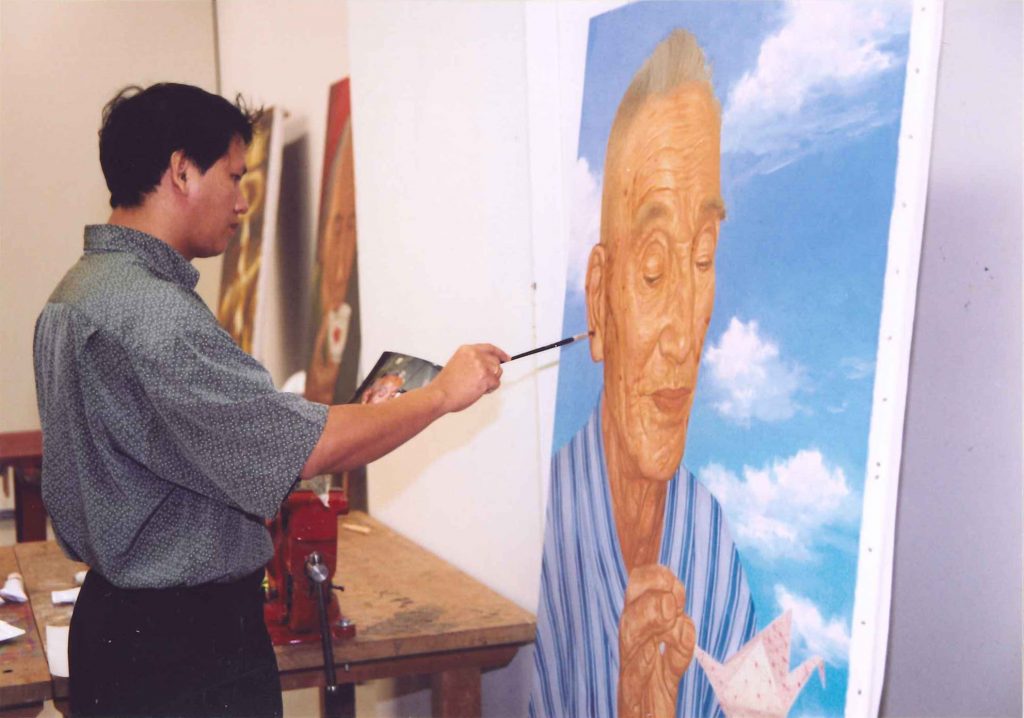 Artist's Statement
Living under Belief
Art is merely a creed. Criticisms are made by no one but the critics themselves.
These are all faddish conceptions of art.
Art certainly survives within the work of art.
There is eternal sooth in art.
An artist can strive and emphasize the sooth in art by honesty and fair heart.
We cannot pronounce by ourselves that we are artists.
Only the work of art can emphasize who is the artist.
Thank you so much to Fukuoka Asian Art Museum, its staffs and volunteers and the people of Japan.
I was very happy to receive the invitation by Fukuoka Asian Art Museum, because it offered a good chance in my life, my artistic practice and experience, and even to share my experience with elementary school children.
During the three months residency, I have painted two individuals from Myanmar and two from Fukuoka, Japan. At the center is "Buddha." This presents the fact of living under belief. Everyone has his/her own belief. But at the same time, they all share a belief in one's last sleep. Therefore, how do they live through the crisis of life?
Some strive to get blessed at the present.
Some strive to get blessed in the future life.
While others strive to escape the cycle of rebirth.
Life and its senile changes carry visible sentiments.
Only such sentiments of mine are attached to those paintings.
I have nothing to say about my artwork because I always think I need more competence. If you like my artwork, please do not be satisfied, I may still need something. If you do not like my artwork, I apologize for I am not a complete artist. But when I paint the paintings I am working at my best at the present moment.
Myoe Thant Oung
Activity Schedule
May 11
Arrived in Fukuoka. Introduced himself by the nickname MTO, but this sounded too abrupt to the staff and he was dubbed "Myoe-san" instead.
May 12
Discussed the course his art-making would take while in Fukuoka. Confirmed plans to paint elderly local residents.
May 13
Attended opening reception for "Contemporary Taiwanese Art - The New Identity Part 5" at Mitsubishi Jisho Artium.
May 15
Discussed schedule of his residency activities with the volunteer staff.
May 17
Began art work inside the Open Studio at FAAM.
May 20
Interviewed by students at the Department of Art and Information Design as part of a lecture by Professor Ishikawa Koji, at the Faculty of Design, Kyushu University.
June 2,4,7
Explored area around the museum and the suburbs, seeking willing elderly citizens to model for his art work.
July 1
Visited Art Space Chiyofuku, Kyosei no Sato and Ishibashi Museum of Art, all located in Fukuoka Prefecture.
July 9
Myoe completed work on residency art work "Japanese Garden".Remaining works near completion at rapid pace.
July 14
All six works were completed and exhibited on wall near entrance to Exhibition Gallery.
July 27
Held workshop for children at Hakata Elementary School. Six elderly men and women from the local community sat as models, and the children painted their portraits with flair. (Total participants: 18 elementary school pupils, 6 models).
July 30
Children who had participated in the July 27 workshop visited the FAAM. At the Open Studio, they learnt how to make hyper-real portraits using photos in the method employed by Myoe. The works did not get completed that day however, and the group determined to finish them between August 2 and 5. (Total participants: 17 elementary school pupils).
August 7-17
"Winds of Artist in Residence 2004 Part 1 exhibition was held. Artist talk took place in front of the works, attended by many visitors who saw the works being made or helped in their production.
August 8
Myoe returned to Myanmar.
Resident artists from the same year