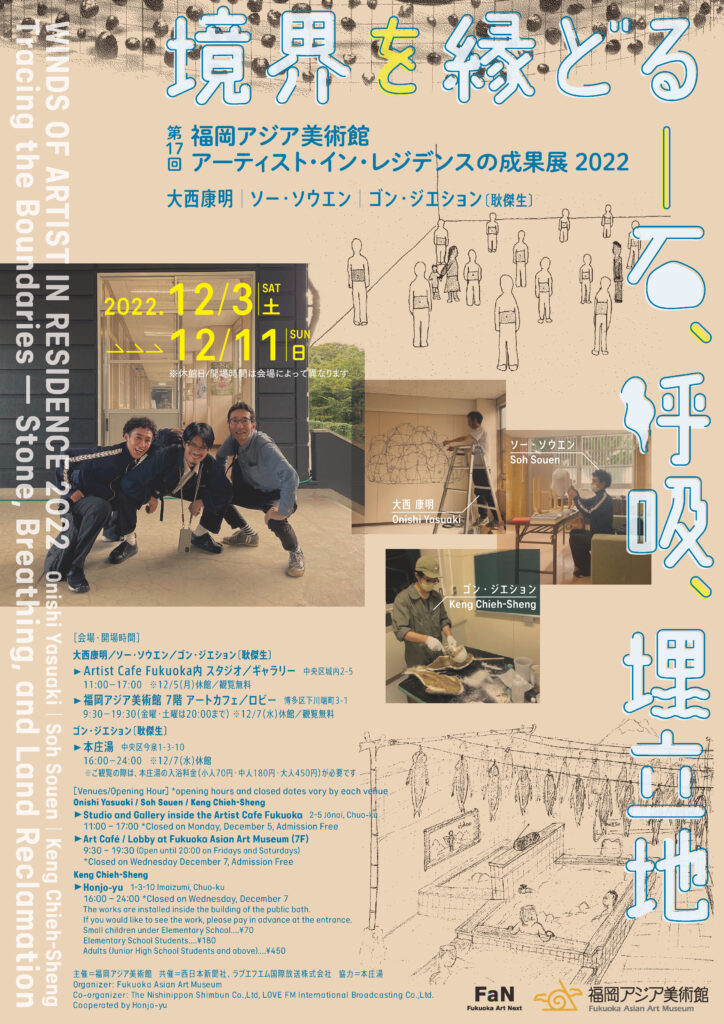 Residency Exhibition
WINDS OF ARTIST IN RESIDENCE 2022 Tracing the Boundaries - Stone, Breathing, and Land Reclamation
Period

Dec 3, 2022 〜 Dec 11, 2022
Venue

[Venues/Opening Hour] *opening hours and closed dates vary by each venue
Onishi Yasuaki / Soh Souen / Keng Chieh-Sheng
▼ Studio and Gallery inside the Artist Cafe Fukuoka 2-5 Jōnai, Chuo-ku
11:00 – 17:00 *Closed on Monday, December 5, Admission Free
▼ Art Café / Lobby at Fukuoka Asian Art Museum (7F)
9:30 – 19:30 (Open until 20:00 on Fridays and Saturdays)
*Closed on Wednesday December 7, Admission Free
Keng Chieh-Sheng
▼ Honjo-yu 1-3-10 Imaizumi, Chuo-ku
16:00 – 24:00 *Closed on Wednesday, December 7
The works are installed inside the building of the public bath.
If you would like to see the work, please pay in advance at the entrance.
Small children under Elementary School....¥70
Elementary School Students....¥180
Adults (Junior High School Students and above)....¥450
We are delighted to announce the exhibit of new artworks by Onishi Yasuaki (Osaka), Soh Souen (Fukuoka), and Keng Chieh-Sheng (Taipei), the three residency artists invited for the Fukuoka Asian Art Museum Artists in Residence program 2022. During their stay for approximately 3 months in Fukuoka from mid-September this year, they conducted research about the area and history, as well as interviews with the local people.
Onishi Yasuaki    Residency Period 9/16 – 12/14
Born in 1979, currently lives in Tondabayashi, Osaka. Onishi reconstructs "intervals" and "boundaries" such as voids and margins that are not recognized in everyday life by using a variety of materials to create works which question the relationship between people and nature, etc. Recently, he presented a work entitled "Stone and Fence," in which the artist traced the entire surface of river shores using copper foil.
–Residency work
Stone on Boundary The Muromi River       Venues: Artist Cafe Fukuoka / Fukuoka Asian Art Museum *The series of works on show at two venues
The objects made from copper foils in the shapes of stones collected from the beach of the Muromi river are arranged in the space. Stones, whose forms I borrow to create my work, represent the accumulated time. They are covered with copper foils and hit with a mallet. By tracing the shapes of stones, I would like to capture front and back, in and out, fiction and reality, along with time or space.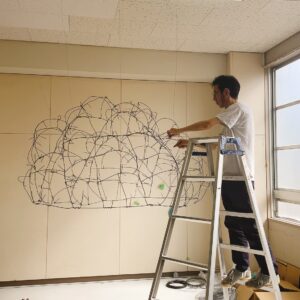 制作風景
Onishi Yasuaki | Fukuoka Asian Art Museum
Soh Souen  Residency Period 9/16 – 12/14
Born in 1995, currently lives in Kita-kushu,Fukuoka. Soh Souen pursues what constitutes his own identity in relation to the artist' s own body. Soh has produced a series of paintings depicted by the dots extracted from portrait photographs, as well as paintings framing his own body. In recent years, his field of expression is also expanding to video works and performances.
–Residency work
Bellybutton and Breathing      Venues: Artist Cafe Fukuoka
Why do we seek for "I" so hard, and easily abandon the "I" amidst the crowd? In this installation and performance piece, I will consider some characteristics of "I" and "We" by taking a closer look at the bellybutton and the act of breathing which is deeply connected to human birth.
Eggsercise      Venue: Fukuoka Asian Art Museum
By putting an egg as a symbol of life in the hollows of the human body and spending time with care not to drop it, the artist considers boundaries and violence between the self and the world.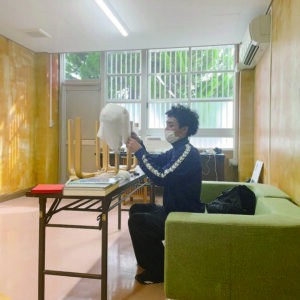 制作風景
Soh Souen | Fukuoka Asian Art Museum

Keng Chieh-Sheng  Residency Period 9/20 – 12/14
Born in 1989, currently lives in Taipei, Taiwan. Keng has been creating objects and installations, focusing on people's customs and physicality in Taiwan and East Asia. Recently he also made mixed media works as well as wood sculptures approaching the textures of wood.
–Residency work
Water Cycle       Venues: Honjo-yu / Artist Cafe Fukuoka / Fukuoka Asian Art Museum
*The series of works on show at three venues
"Where does the water go after land reclamation?" I was curious about this issue, so beginning from here I try to resemble the phenomena of water displacement from bathing to land reclamation. The source, volume and different forms of water become the key elements in my work, illustrating the tightly interwoven relationships between individuals, the city and the environment.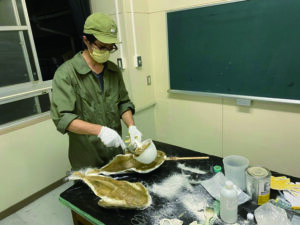 制作風景
Venue

[Venues/Opening Hour] *opening hours and closed dates vary by each venue
Onishi Yasuaki / Soh Souen / Keng Chieh-Sheng
▼ Studio and Gallery inside the Artist Cafe Fukuoka 2-5 Jōnai, Chuo-ku
11:00 – 17:00 *Closed on Monday, December 5, Admission Free
▼ Art Café / Lobby at Fukuoka Asian Art Museum (7F)
9:30 – 19:30 (Open until 20:00 on Fridays and Saturdays)
*Closed on Wednesday December 7, Admission Free
Keng Chieh-Sheng
▼ Honjo-yu 1-3-10 Imaizumi, Chuo-ku
16:00 – 24:00 *Closed on Wednesday, December 7
The works are installed inside the building of the public bath.
If you would like to see the work, please pay in advance at the entrance.
Small children under Elementary School....¥70
Elementary School Students....¥180
Adults (Junior High School Students and above)....¥450

Organiser

Fukuoka Asian Art Museum
Co-organizer: The Nishinippon Shimbun Co.,Ltd, LOVE FM International Broadcasting Co.,Ltd.
Cooperated by Honjo-yu

Contact

092-263-1100