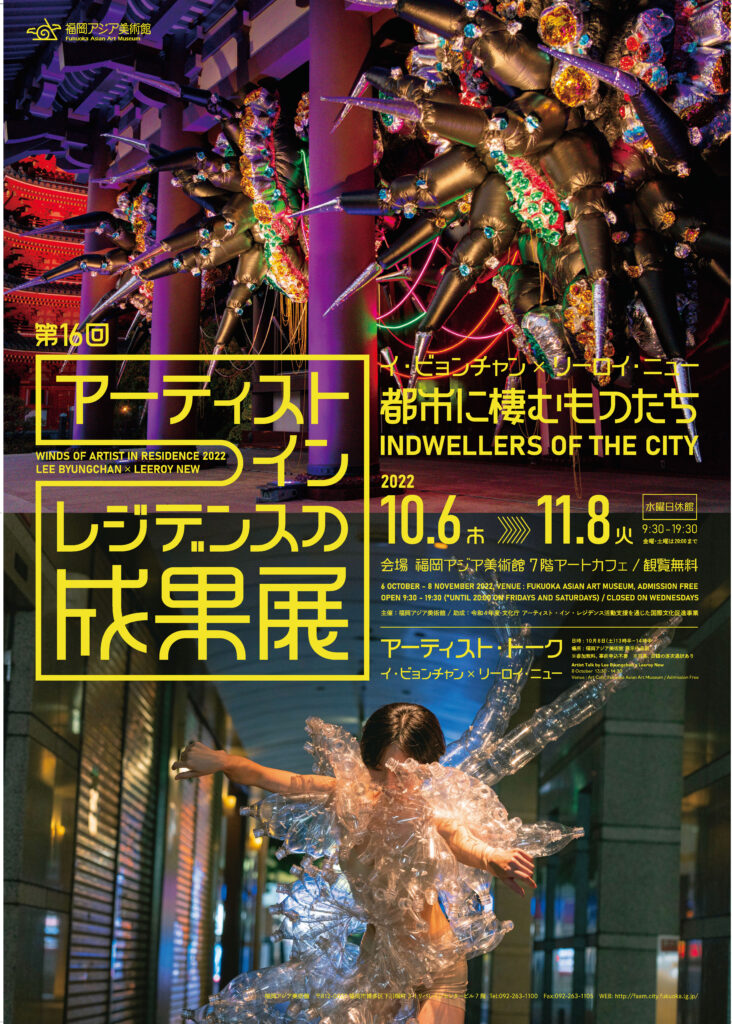 Residency Exhibition
WINDS OF ARITST IN RESIDENCE 2022
Indwellers of the City : Lee Byungchan × Leeroy New

Period

Oct 6, 2022 〜 Nov 8, 2022
Venue

Art Cafe(7F, Fukuoka Asian Art Museum)
We are delighted to announce the exhibition of the new installation works by Lee Byungchan and Leeroy New, the two artists who participated in our Artist in Residence Program 2022. They stayed in Fukuoka from later July until early October this year to work and create artworks, based on local research and materials in the town of Fukuoka.
Their works were also exhibited at the Tocho-ji and Myoraku-ji temples, during the FaN Week Hakata Old Town Festival (September 30 ~ October 3). Documents of the exhibit will also be on view at FAAM.
* Grant from Agency for Cultural Affairs, Government of Japan, 2022
Lee Byungchan
Born in 1987, in Korea (currently lives in Seoul).
He creates many kind of works, including large-scale installations made from materials that represent consuming society, such as plastic bags, as well as video works.
Leeroy New
Born in 1986, in the Philippines (currently lives in Manila).
He creates various kinds of impactful works, including wearable sculptures with unique alien-like forms or gigantic objects that look like spacecrafts.
Venue

Art Cafe(7F, Fukuoka Asian Art Museum)

Admission

Admission Free
(Open 9:30~19:30 *Until 20:00 on Fridays and Saturdays)

Works

Lee Byungchan / CREATURE (2022) *Installation work using plastic materials
Leeroy New / Ectoplastic Balete, Ectoplastic Bakunawa (2022) *Installation work using PET bottles

Organiser

Fukuoka Asian Art Museum

Contact

092-263-1100