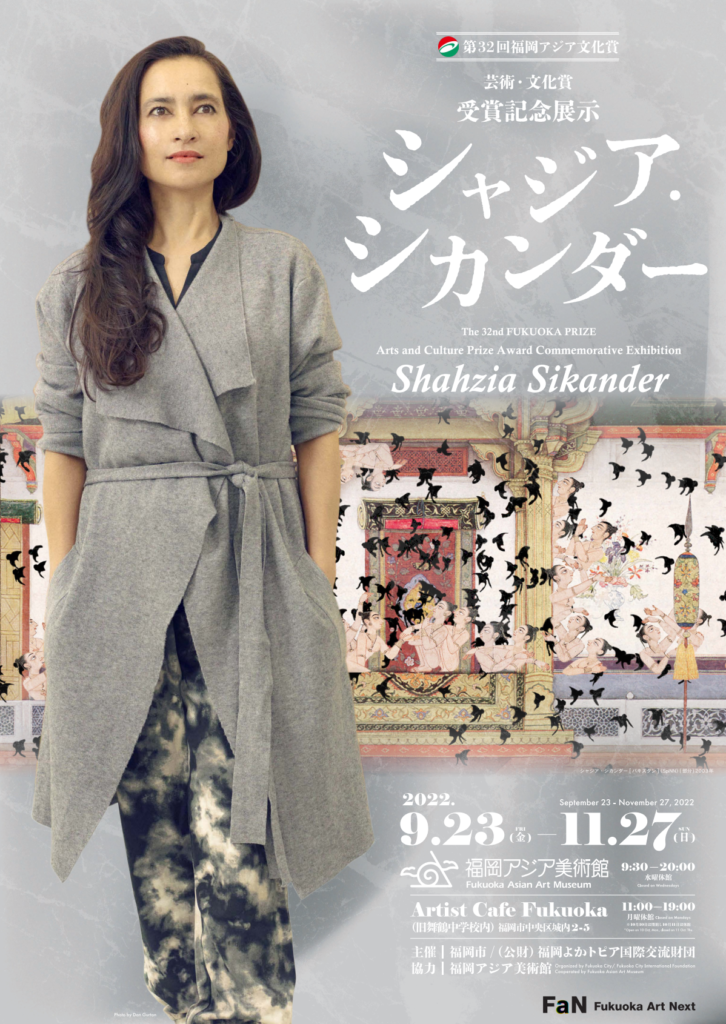 Shahzia SIKANDER
Period

Sep 23, 2022 〜 Nov 27, 2022
Venue

Fukuoka Asian Art Museum (7F lobby)
Gallery of Artist Cafe Fukuoka (at former Maizuru Junior High School)
32nd Fukuoka Prize (Art and Culture Prize) was awarded to Ms. Shahzia Sikander, an artist from Pakistan who represents South Asia.
To commemorate this, the Fukuoka Asian Art Museum will exhibit works by Ms. Shahzia Sikander in the lobby on the 7th floor of the museum and in the gallery of Artist Cafe Fukuoka.
[Exhibition in Fukuoka Asian Art Museum (7F lobby)]
SpiNN
animation (6 mins. 30 secs.) 2003
This is one of the earliest experiments in animation by the artist who acquired international attention with her innovation in miniature paintings. The king or a man with power who is supposed to dominate the hall for trials and meetings is absent; instead, naked Indian milkmaids occupy the room. Their hairdos are separated from the bodies and fly, rotate, as flight of birds or swarm of insects disturb the space. The title means visual spinning of images but it also ironically refers to biased news by the American TV station CNN.
Disruption as Rapture
animation ( 10 mins. 7 secs. ) 2016
This work was commissioned by the Philadelphia Museum of Art and is based on the miniatures from its collection, the 18th Century Indian manuscript Gulshan-i 'Ishq (Rose Garden of Love). Each scene is covered and erased by black forms taken from hairdo of Indian women, wings, flowers, leaves, etc., while the frames are vertically moved, thus the classical paintings depicting the travel of the king and his son prince are under continuous attack.
[Exhibition in Artist Cafe Fukuoka]
Parallax
3 channel animation ( 15 mins. 30 secs. ) / Music by Du Yun 2013
This work is created through the artist's research in United Arab Emirates (UAE). Vertical and horizontal movements of the frame, rotating forms, and extreme change of scale in a huge screen dizzy viewers. The title means a different view of objects seen from different vantage points, but in this work, it refers to the impossibility of any fixed (privileged) viewpoints due to the complex historical layers with diverse ethnic groups, languages, and cultures of the regions.
Venue

Fukuoka Asian Art Museum (7F lobby)
Gallery of Artist Cafe Fukuoka (at former Maizuru Junior High School)

Admission

Admission free

Organiser

Fukuoka Asian Art Museum

Contact

+81-(0)92-263-1100