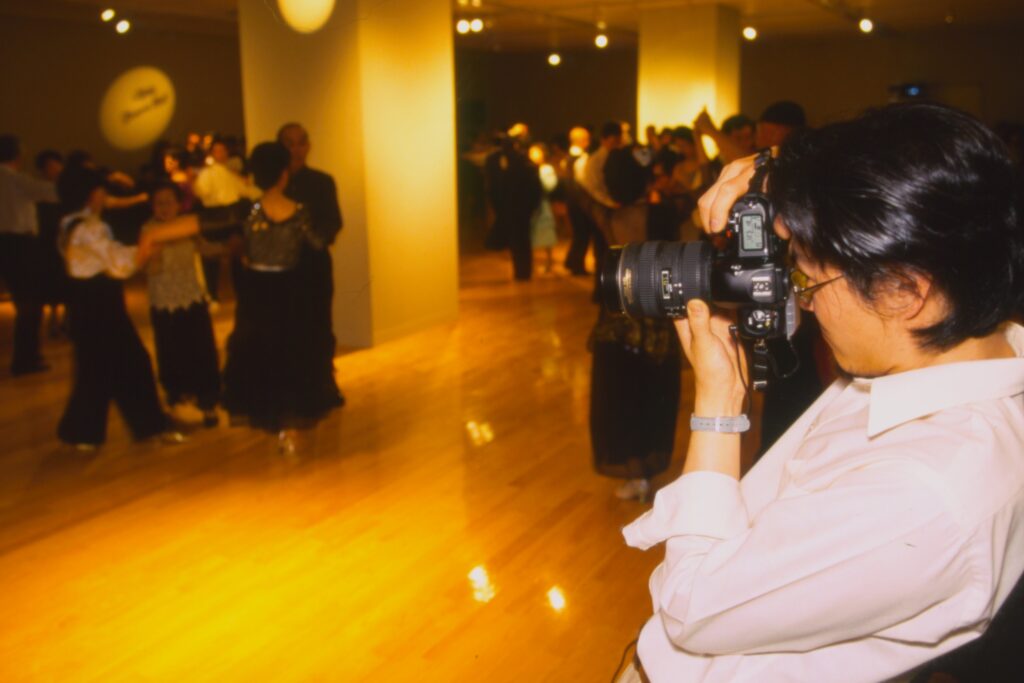 Residency Exhibition
Room for FAAM Residence Program Part Ⅱ Jung Yeongdoo : Shall We Dance?
Period

Sep 15, 2022 〜 Dec 25, 2022
Venue

M8 Lounge, Fukuoka Asian Art Museum
Jung Yeondoo, one of the most well-known artists in Korea and worldwide, has been recognized for his heartwarming artworks based on interviews about people's lives and dreams. His work embraces not only the world of coexisting reality and fantasy but also encourages its participants to foster imaginations about the future together with the artist.
Twenty years ago, at the earlier stage of his career, Jung Yeondoo stayed at FAAM for 25 days as the participating artist in the residence program forThe 2nd Fukuoka Asian Art Triennale 2002 and made a gorgeous dance party room inside the museum. This time, part of the work created during his residency, titled AJIBI Dance Hall which illustrates people dancing happily in couples on the wallpaper, will be on show again. Through the documentation, we would like to trace the artist's activities in Fukuoka, which led to his later career receiving more worldwide acclaim.
Jung Yeondoo, featured on the poster for The 2nd Fukuoka Asian Art Triennale 2002
  After coming back from his studies in the UK in 1997, Jung Yeondoo exhibited the work Borame* Dance Hall in 2001 at the Alternative Space LOOP, an art space in Seoul that introduced emerging contemporary artists at the time. It is an installation piece consisting of photographs of people taking good-old style dance lessons at Borame Park as well as the surrounding landscape. Borame Park, which opened in 1985, was built on the remaining site of the former military school of the Korean air force, in the suburb of Seoul. This work received high recognition, which led to the artist's participation at The 2nd Fukuoka Asian Art Triennale 2002. The artwork appeared on posters as well as on the front cover of the exhibition catalogue.
*Borame means the hawk for hunting in Korean, also known as a symbol of the Korean air-force.
Jung Yeondoo
Born in 1969, Jinju, Korea. Visual artist, based in Seoul.
1994 B.F.A. in Sculpture, Seoul National University, Korea
1995 M.F.A. in Sculpture, University of London, Goldsmiths College, London, England.
1997 M.F.A., in Sculpture, London Institute, Central Saint Martin College of Art, London, England.
Jung Yeondoo's works are also on view in the special exhibition EMOTIONAL ASIA currently open at the Asia Gallery on 7F (starting from September 15 to December 25).
Venue

M8 Lounge, Fukuoka Asian Art Museum

Admission

free

Works

・《Ajibi Dance Hall》2002 (detail)
・Video document of《Ajibi Dance Hall》, (30 minutes)
・Catalog, Document and Poster of "The 2nd Fukuoka Asian Art Triennale 2002"

Organiser

Fukuoka Asian Art Museum

Contact

092-263-1100