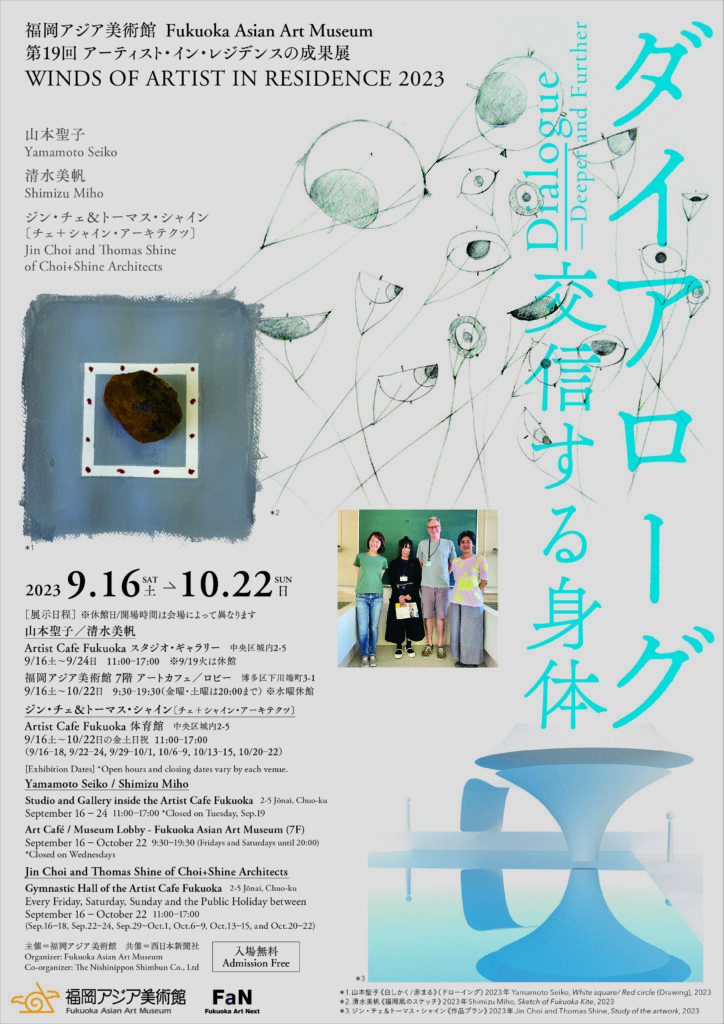 【WINDS OF ARTIST IN RESIDENCE 2023 Part1】Talk Deep about Residency Programme - "Dialogue"
Period

Sep 23, 2023
Time

14:00-15:30
Venue

Artist Cafe Fukuoka (Studio)
After 3 months residency, we would like to talk about what we've achieved, what we wished to achieve, expectations or resolutions for the future AIR programme, etc.
Guests: Shimizu Miho, Yamamoto Seiko, and Staffs for FAAM AIR Programme
Fee

Admission Free, No registration required (the talk will be conducted in Japanese only)

Lecturer

■Yamamoto Seiko
[Residence Program] Jul 4, 2023〜Sep 27, 2023
Yamamoto's creation derives from the homogeneous atmosphere of the new town where she grew up and her uncomfortable feelings regarding physical stances there. Recently the artist has applied this point of view to other cities she visited for residency programmes. The artist captured the town and lives of people through observation as "colors of signs, "and her creation expands in different media such as video, installation, and sculptures.

■Shimizu Miho
[Residence Program] Jul 10, 2023〜Sep 27, 2023
Using textiles as her main material, Shimizu creates sets for live events and video productions, as well as costumes and props for performers and dancers. She is interested in the way the shape and meaning of her creations are transformed by the performer's movements, and has been working on sets in which the performer disappears and reappears, and humorous costumes that cover the face and/or parts of the body, transforming the performer into a monkey or an ostrich.

Contact Us

092-263-1100

Organiser

Fukuoka Asian Art Museum

Co-organizer

The Nishinippon Shimbun Co., Ltd.