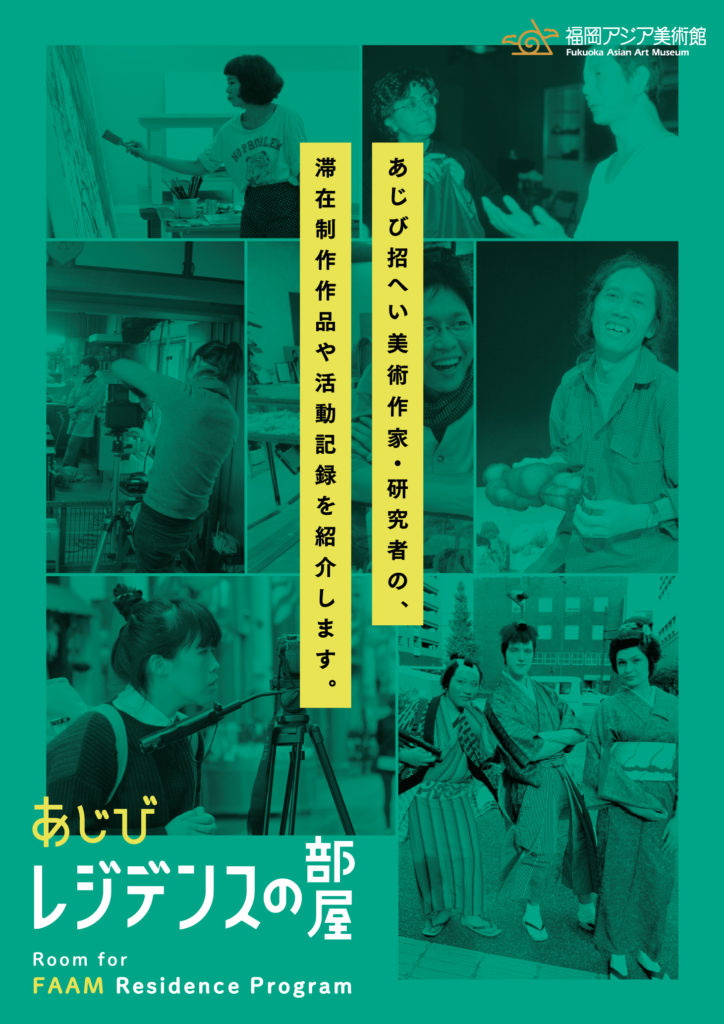 Room for FAAM Residence Program: Vol.1 Introduction of the 2020 Residence Program

Period

Mar 21, 2020 〜 Jun 23, 2020
Venue

Asia Gallery, Fukuoka Asian Art Museum
Since its inauguration in 1999, the Fukuoka Asian Art Museum (FAAM) has conducted its Residence Program, which invites artists and researchers from Asia every year to stay for a certain period and cultivate exchanges through collaborative art-making, workshops, talks and other programs with citizens. Through the Residence Program, FAAM intends to promote local people's further understanding of Asian arts and cultures, which is expected for us to become a hub of artistic exchanges in Asia.
This room is to share the 21 years of the FAAM Residence Program and deliver the current of the program. In the first exhibition in FY2020 introduces three artists who will be coming to Fukuoka in our Residence Program and Residence Support Program. The exhibition also includes the report of the 2019 Residence Support Program through which a researcher stayed in Fukuoka.
We hope that the visitors experience a feel of exciting exchanges happening between the FAAM resident artists and researchers and people in Fukuoka.
Venue

Asia Gallery, Fukuoka Asian Art Museum

Admission

Adult 200 JPY / High School&College 150 JPY / Free for Junior High School and Under
*50 JPY/person discount for a group of more than 20 people.

Works

Introduction of the 2020 Residence Artists, Report on Ozawa Tsuyoshi's "Museum of Soy Sauce Art" in Avignon, France and Fukuoka by the 2019 Support Program Researcher, and others

Organiser

Fukuoka Asian Art Museum

Contact

Tel: 092-263-1100