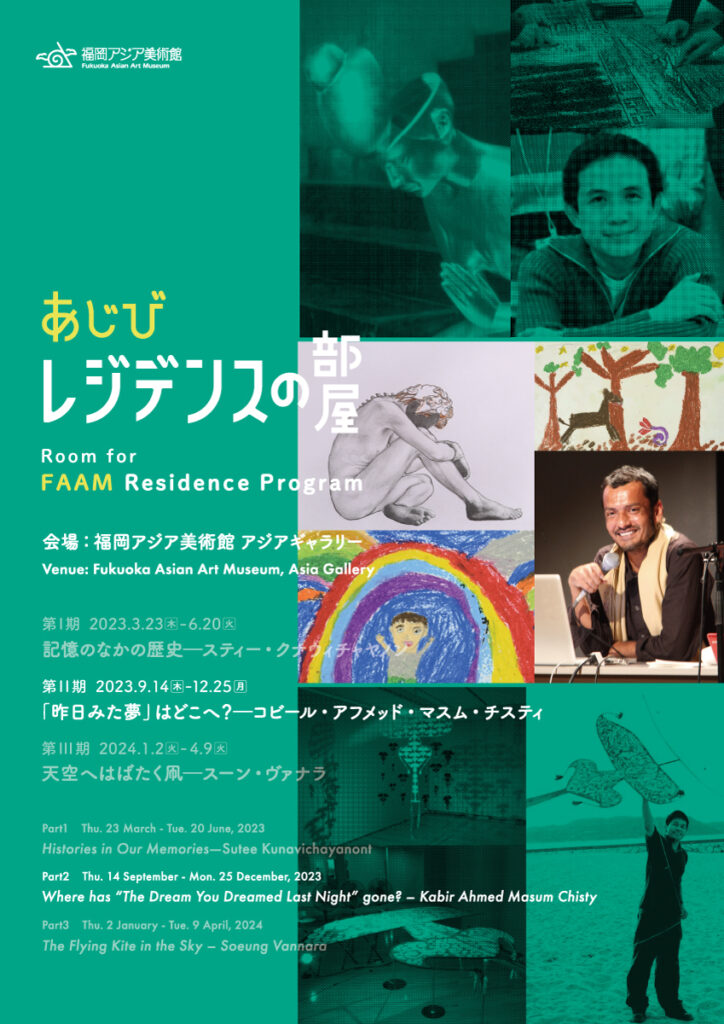 Special Exhibition
Room for FAAM Residence Program PartⅡ Where has "The Dream You Dreamed Last Nigth" gone? : Kabir Ahmed Masum Chisty
Period

Sep 14, 2023 〜 Dec 25, 2023
Venue

Asia Gallery, Fukuoka Asian Art Museum
《Foreword》
Since opening in 1999, Fukuoka Asian Art Museum has been conducting annual Artist in Residence Program, inviting Asian artists and researchers for a period of time that enables them to have exchange with citizens through collaborative artmaking, workshops, and talk events. It not only provides local people with a chance for a deeper understanding of Asian art or cultures but also encourages our museum to become an active foundation for artistic exchange in Asia. Since 2022, as part of Fukuoka Art Next (a new governmental policy that supports emerging local artists), FAAM has made annual open calls and invited both local and international artists in a total of 8 to 9 (including individuals and duos). All artists work in the newly located studio in Artist Cafe Fukuoka.
To introduce our past artist in residence program and later achievements of the invited artists, we have started a new series of exhibitions, Room for FAAM Residence Program. For the first term of the series this year, we introduce Kabir Ahmed Masum Chisty (Bangladesh), who participated in the 5th Fukuoka Asia Art Triennale 2014. During his stay in Fukuoka, the artist made new artwork and organized a workshop The Dream that We Had Last Night Together. Chisty not only makes moving images in a form of animation but also uses his own body in his performance and has received international recognition. We hope the visitors can get a glimpse of his artistic career from our museum collection as well as his recent performance pieces.
《Profile》
Kabir Ahmed Masum Chisty
Born in Narayangaji, Bangladesh, in 1976. Based in Dhaka and Narayanganji.
The artist participated in the 5th Fukuoka Asia Art Triennale 2014 between October 14 and November 16 2014 for making new artwork and organize workshops at Fukuoka Asian Art Museum.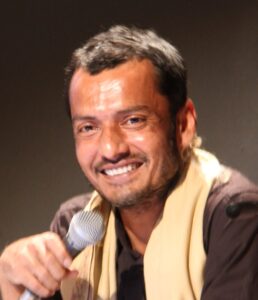 Chisty exposes his inner conflict in an animation-like style, incorporating self-portrait photographs and drawings. After studying sculpture, the artist has been active internationally, creating installation or performance works while working at an animation production company, making short animation targeted for children.
At the 5th Fukuoka Asia Art Triennale 2014 (FT5), Chisty presented new piece Coccon, together with his previous work Quandary, which was also exhibited at the pavilion of Bangladesh in Venice Viennale. During the residency in Fukuoka, he also created a collaborative animation work The Dream that We had Together Last Night, using paintings and sound created by children.
In recent years, Chisty joined various international art festivals and made different attempts using his own body. He not only worked on the theme of creation myth, but also visualized his original artistic landscape with his drawings incorporating Bengali and presented interactive performances within the space he created. The artist paved a new way of art in Bangladesh, in terms of his original style and theme to reflect his inner self.
《Workshop Introduction》
Making of The Dream that We Had Last Night Together
Original Paintings in Animation : Let's Draw the Dream You Dreamed Last Night!
Date: October 17, 2014
Venue: AJIBI Hall, Sculpture Lounge
Participants: 104 third-graders from Arita Elementary School
At the beginning of the workshop, Chisty gave a talk about his works to students from Arita Elementary School. Then the students draw pictures using oil pastels based on the theme of "the dream I saw last night." Chisty scanned and combined the paintings made by students to make an animation work.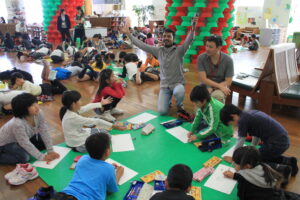 2 Making the Sounds of the Dream You Dreamed Last Night!
Date: November 6, 2014
Venue: AJIBI Hall, Artist's Gallery
Participants: 39 third-graders from Chiyo Elementary School
Students from Chiyo Elementary School did an improvisational performance using different items that they brought from school. After the sound editing by Chisty, a collaborative artwork which allegorically illustrates children's life in Fukuoka was created.
Students who joined the previous animation making workshop Let's Draw the Dream You Dreamed Last Night! , looked shy but definitely admired seeing their original drawings and sounds combined to make a lively movement in the animation. The artwork sprouted from a casual proposal by the artist Chisty and embraced many new ideas that came afterwards.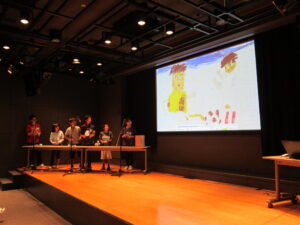 《Kabir Ahmed Masum Chisty List of Perfomances》
"The Story of Water and Labor Pain"and 9 other performances are introduced.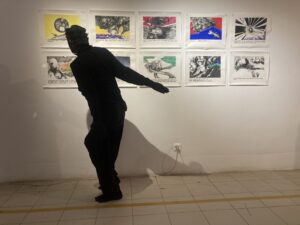 "The Story of Water and Labor Pain"  February 3-11, 2023  Dhaka Art Summit (Dhaka, Bangladesh)
Venue

Asia Gallery, Fukuoka Asian Art Museum

Admission

Adult 200 JPY / High School&College 150 JPY / Free for Junior High School and Under
*50 JPY/person discount for a group of more than 20 people.

Organiser

Fukuoka Asian Art Museum

Contact

Tel: +81(0)92-263-1100