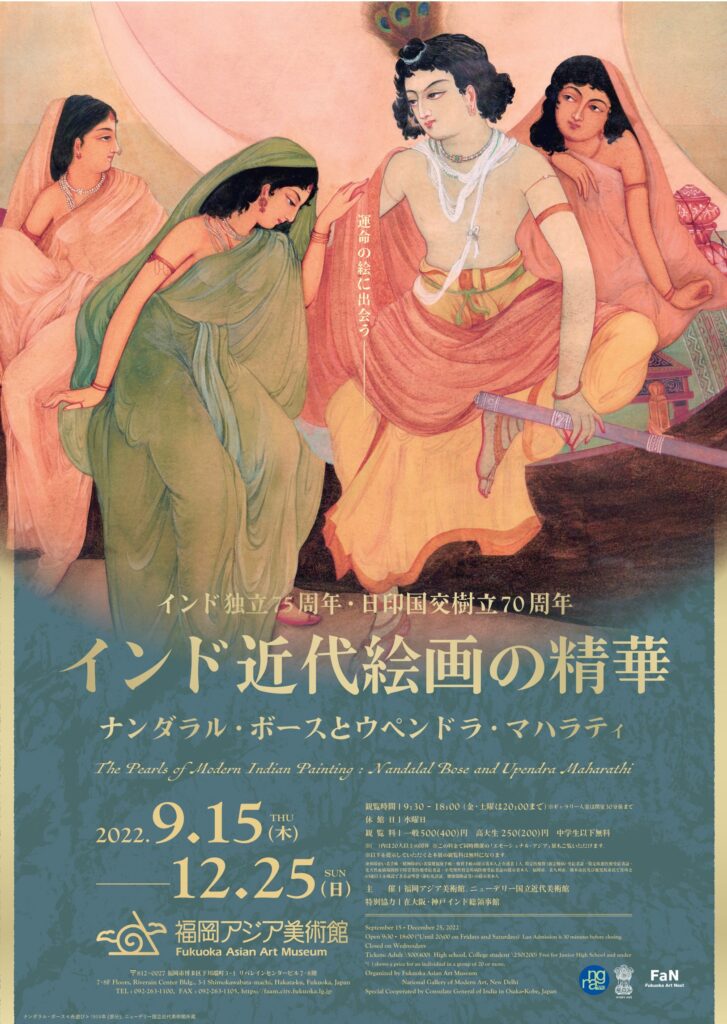 Temporary Exhibition
Modern Art Ⅶ The Pearls of Modern Indian Painting : Nandalal Bose and Upendra Maharathi
Period

Sep 15, 2022 〜 Dec 25, 2022
Venue

Asia GalleryB, Fukuoka Asian Art Museum
Nandalal Bose (1883-1966), one of the pioneers of modern art in India, and Upendra Maharathi (1908-1981), known as the next generation of Bose, were deeply influenced in terms of both thoughts as well as artistic expressions from the painters of the Bengal school, including Abanindranath Tagore (1871-1951).
In the early 20th century, the Bengal school met important figures of Japanese modern art, such as Okakura Tenshin (1862-1913) and Yokoyama Taikan (1868-1958). They shared a sense of crisis, that art of their own country might disappear under the rapid Westernization, and have prioritized traditional expressions and techniques over Western painting.
Bose is the representative figure in such movement, while Maharathi, who spent two years in Japan in the 1950s, is known for his devotion on the subject related to Buddhism.
The exhibition gives an insight into artistic paths of the two painters through the collections from the National Gallery of Modern Art, New Delhi, along with related works in the museums of Fukuoka. We would like you to see the masterpieces of modern Indian painting that arose from destined encounter between Japanese artists and the Bengal school.
Venue

Asia GalleryB, Fukuoka Asian Art Museum

Admission

Adult 500(400)yen/High school or College Students250(200)yen/Free admission for Junior High School students and under
※() shows a price for an individual in a group of 20 or more
※Tickets are also available for the Exhibition "Emotional Asia Miyatsu Daisuke Collection x Fukuoka Asian Art Museum" which will be held on the same dates.

Organiser

Fukuoka Asian Art Museum, National Gallery of Modern Art, New Delhi

Contact

Fukuoka Asian Art Museum

Special Cooperation

Consulate General of India in Osaka-Kobe, Japan