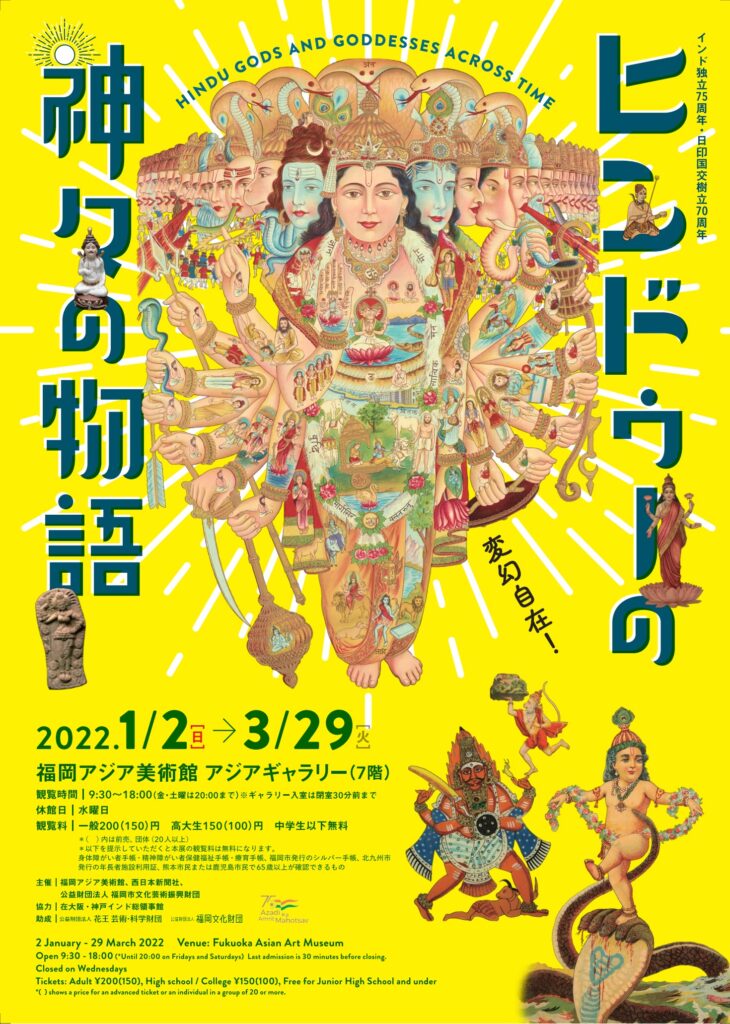 Special Exhibition
Hindu Gods and Goddesses Across Time
Period

Jan 2, 2022 〜 Mar 29, 2022
Venue

Asia Gallery
The images and transcendental powers of Hindu Gods and Goddesses, such as Shiva, the god of destruction and creation, Vishnu, the ever-changing god, and Lakshmi, the god of beauty and luck, have been fervently worshipped by people since ancient times. When and how were these images of the gods and goddesses disseminated?
With the core collection of Kuroda Yutaka, who has collected Indian popular religious iconography for many years, and collections from Fukuoka Asian Art Museum, the Ancient Orient Museum, Hirayama Ikuo Silk Road Museum, this exhibition traces the evolution of images of Hindu Gods and Goddesses from ancient times to the present day.
Beginning with the artifacts of the prehistoric Indus civilization, the exhibition presents over 500 pieces including a collection of elegant Indian Sarasa and glass paintings made from the 17th century forward, folk paintings that colored the popular culture, and Varma prints, a multicolored lithography. The images of these gods and goddesses have changed over time along with the materials, techniques, and media used to express them. At the same time, the nature of the beliefs that their worshippers share has also changed.
This exhibition aims to introduce the Hindu gods, which have been the foundation of Indian culture and have been faithfully worshiped, and their fertile world through the valuable works and materials.
Exhibition Contents 
Prologue: The Birth of the Indic World: Forms of Soil, Stone, Metal
Chapter 1: Dazzling Images: Sarasa, Miniature Paintings, Glass
Chapter 2: Hindu Deities Loved by the People: Folk Paintings, Embroidery, Festivals
Chapter 3: The Advent of Printing Technology and Globalization: Books, Oleographs, Ceramics
Chapter 4: Hindu Gods and Goddesses
Chapter 5: The 21st Century: Stories Passed Down Through Generations
Venue

Asia Gallery

Admission

Adults 200 (150) JPY / High School&College students 150 (100) JPY / Free for Junior High School and Under
*Group discount fee for 20 or more people is shown in parentheses

Organiser

Fukuoka Asian Art Museum, The Nishinippon Shimbun, Fukuoka City Foundation for Arts and Cultural Promotion

Cooperated by

Consulate General of India, Osaka-Kobe

Funded by

The Kao Foundation for Arts and Sciences, The Fukuoka Cultural Foundation